Game of Thrones EW Cover 2013
See EW's Game of Thrones Cover
Season three of Game of Thrones is on its way, and before the March 31 premiere, Entertainment Weekly is giving us a look at the new season — and characters Jon Snow (Kit Harington) and Daenerys Targaryen (Emilia Clarke). The showrunners spill a little about what we can expect from the series's third outing — here are the highlights: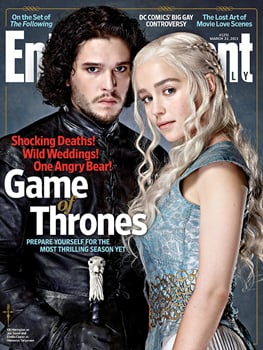 Executive producer David Benioff, on the story line: "Like the book, it builds. Once the season kicks into gear, we've already seen stuff that makes me think it will be the best one yet. And it ought to be."
Showrunner Dan Weiss, promising some shocks: "There's major massive events happening like I don't think we've ever had before."
Benioff, on the emotional impact of the season: "I've never seen the crew so emotional. If the scene has that effect on the people making it who know what's coming, if they're that overpowered, I think it's going to have an overwhelming effect on people watching it."
Get a better look at the cover when you read more.