Game of Thrones "Garden of Bones" Recap
Game of Thrones "Garden of Bones": What We're Still Talking About
To say there's little lightheartedness in this week's Game of Thrones is a bit of an understatement. In fact, it's pretty messed up — we see more of how twisted Joffrey can be, some creepy rat-torture, and the episode ends with a giant WTF moment. And to add insult to injury, there is no trace of Jon Snow this week, either.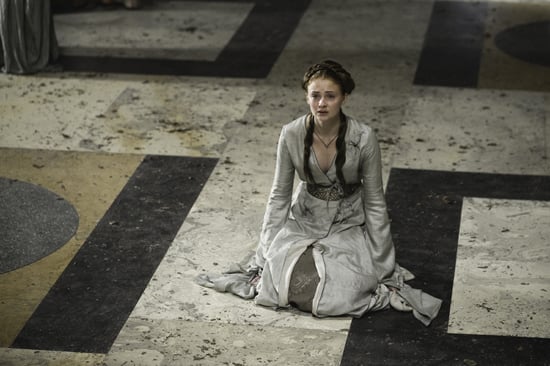 While this week's episode may have been tough to watch, the many awful things give us a lot to talk about today. Let's talk about what's still haunting me after the jump.
The madness of King Joffrey: How far is Joffrey's perversion going to go? First, he humiliates and hurts Sansa at court (or rather, has a knight do it) until Tyrion steps in to stop it. But it gets more disturbing when Tyrion decides that Joffrey's just sexually frustrated, so he sends two prostitutes in to "relieve" his tensions. Hearing that Tyrion sent them, he sends his own message back to Tyrion, forcing Ros to repeatedly strike her friend with varying levels of tools, amid her shrieks.
Playing footsie: Good for Robb Stark for getting a love interest on the battlefield. Not good for us that we have to meet her while she's cutting a wounded soldier's foot off.
Oh, rats: Arya and Gendry are close to being tortured by King Joffrey's men, but mercifully, they narrowly miss being given the full rat treatment, thanks to Tywin. But when he comes upon the scene, he immediately outs Arya as a girl, so now I'm even more worried about her.
The body: Littlefinger confesses his love to Cat, admitting his hope that since Ned's dead, he just thought, you know, Cat would be ready to go steady with him. Being that Littlefinger's a creep and that Cat is grieving the death of her husband and worried sick about all her children, she's not really amenable to anything romantic. Finally, he's able to mollify her a little when he presents her with the body of Ned as a sign of goodwill so she'll consider the trade of Arya and Sansa for Jaime.
She's having a baby: Melisandre's birth scene is terrifying from start to finish. I mean, I was already freaked out when she pulls her robe off to reveal a fully developed pregnant belly because I didn't want to see a graphic childbirth scene, period. And then a smoky monster emerges from her birth canal. Well, I know what I'll be seeing in my nightmares for the next year.
What did you think of all the creepiness on Game of Thrones this week? Were you as disturbed as me by everything?