Game of Thrones "A Man Without Honor" Recap
Game of Thrones "A Man Without Honor": What We're Still Talking About
There are only three more episodes left in the second season of Game of Thrones, and this week's episode feels like it's ramping up for an intense last few installments. But there's still a lot to talk about from this week, including a particularly nightmarish end scene and some hilarious banter between Jon Snow and his prisoner Ygritte.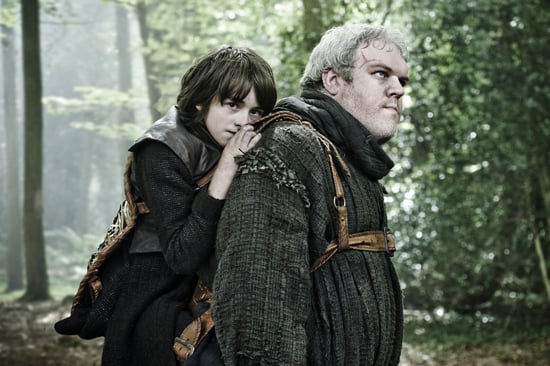 The title of the episode, "A Man Without Honor," certainly feels apt, though I'd say there's definitely more than one man who shows his lack of honor this week. I'm ready to break down the big moments of the episode, though, so to see which scenes I can't stop thinking about, just keep reading.
The Queen is a little less hate-able: Dare I say that Cersei is sympathetic this week? Well, almost. First, she's more gentle than expected when Sansa gets her period and panics about how it means she's ready to bear Joffrey's children (a fate more disgusting than death). Then when Cersei talks with Tyrion, she basically admits that Joffrey is the worst, conceding that maybe having her brother's kid wasn't the best idea she'd ever had. (I loved how she says that Joffrey looks like Jaime sometimes . . . but only in a certain light.) Tyrion even looks like he's close to hugging her, but he can't bring himself to. Understandable.
The Kingslayer speaks: Jaime has a few scenes this week, and they're generally to show how terrible he is. He has a protracted speech about how much he loves being on the battlefield (which I found kind of boring, but it did make me realize how beautiful Nikolaj Coster-Waldau's voice is), then murders his own relative and a guard. But it's possible that he's said his last nasty words, because after he has a good ol' time taunting Catelyn about Ned's infidelity, Catelyn asks for Brienne's sword. What's she going to do with that? Cut out his tongue? Kill him?
Sex and the single Snow: Jon Snow's anger with Ygritte's teasing about sex is pretty hilarious because it's so uncomfortable for him. I know she's wily and just trying to figure out how to get away from him, but I'm also pretty sure she means what she says when she's trying to get Jon to have sex with her. Especially since he looks straight-up hot this week.
It's time to get the hell out of Qarth: Dany's trying to get her dragons back after they were snatched last week, but things get worse than just missing pets. Pyat Pree, the elder who looks like a reanimated corpse, slits the throat of everyone in the Thirteen, except for Xaro Xhoan Daxos (which makes him King of Qarth). Time to say thanks for the hospitality, Qarth, but I'm out.
Theon's gone to the dark side: And the nightmare moment of the week goes to the final scene, when Theon unveils the burned corpses of two boys, whom he passes off as the young Stark brothers. I think it's obvious that Bran and Rickon are fine and Theon killed two other kids (probably the Winterfell orphans Bran talks about), but aside from that, wow. His execution of Rodrik last week is shocking and traumatic, but the killing of two innocent children is mind-blowing. I took his mildly confused expression to mean that he (hopefully) realizes who he has become.
What did you think of Game of Thrones this week?