Game of Thrones Pilot Recap
3 Reasons I Was Pleasantly Surprised by Game of Thrones
Did you tune in for the premiere of HBO's Game of Thrones last night? I was admittedly on the fence about the show, but I couldn't ignore the hype and decided to give it a try — and I'm glad I did. Since the show is based on a series of fantasy novels, I was expecting the first episodes to be bogged down in setting up the premise and introducing the different kingdoms without very much action. As it turns out, the opposite proved to be true, and I have a feeling that after a few more episodes I just might be hooked. Here's why you should give it a chance: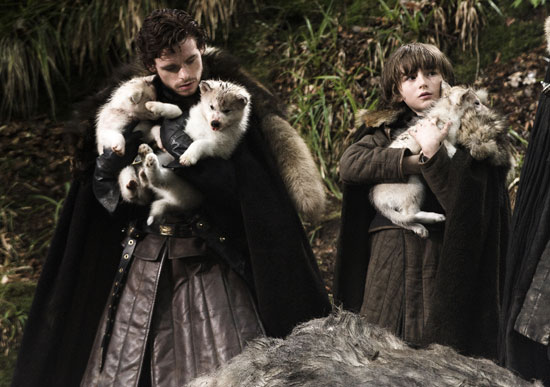 The pilot moves quickly. The first episode of a series is rarely its strongest, but Game of Thrones offers just the right amount of character introduction and plot development. It kicks off with a creepy mystery (plus a beheading), and eventually includes a wedding, multiple deaths, and the discovery of a scandalous relationship — plus the potential loss of an important character. Though I had to double check a few facts to make sure I didn't miss anything, the episode sets up plenty of storylines for the rest of the season while keeping the audience engaged.
There's no shortage of characters. The episode focuses on three major families: the Starks headed by Lord Eddard (Ned), King Robert Baratheon's wife and kin, and the brother sister duo, the Targaryens. For the most part, the Targaryens are a separate entity in the first episode, but their story has as much intrigue as the bond between the King's family and the Starks does. The pilot slowly unfolds each family tree, which runs the gamut from children learning to be warriors to young women who are forced to be married off for social status to adults who are still behaving like teenagers.
It ends on a major cliffhanger. Even if you're not instantly hooked on Game of Thrones, it ends with a jaw-dropping note that will not only set the course for the rest of the show, but will definitely have me tuning in next week to find out the aftermath.
So what's your reaction? I'm especially interested in hearing how fans of the book series feel about seeing the novels come to the screen. Did you love it? Hate it? Weigh in!
Photo courtesy of HBO