Game of Thrones Recap Dark Wings Dark Words
Game of Thrones — "Dark Wings, Dark Words": What We're Still Talking About
If you were disappointed (like I was) that core Game of Thrones characters like Bran, Arya, and Jaime were missing from the season premiere, then chances are good that you were happy with the second episode. Not only do we catch up with these missed characters, but we also meet a few new faces, like Jojen and Meera Reed, Beric Dondarrion, and Lady Olenna.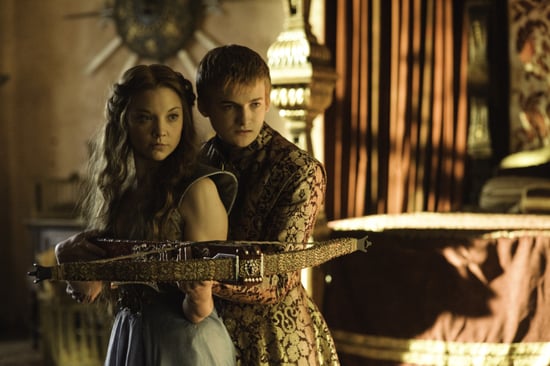 Though this episode isn't packed with game changers, there's a healthy dose of character development as well as a few hints regarding what's to come. Arya gets thrown for a loop when she's recognized by someone from her past, Catelyn loses her father, and Theon Greyjoy is forced to suffer the repercussions of what went down at Winterfell. Let's break it down when you
.
The kid from Love Actually is all grown up and in Westeros! Bran has one of his typical three-eyed raven dreams, and this time, he's practicing his archery skills with brothers Jon and Robb. (Aww, remember when the Starks used to all hang out together?) He also dreams of a stranger who tells Bran that Bran is the raven. He doesn't stay a stranger for long, though: Bran meets the boy, who reveals himself to be Jojen Reed (Thomas Brodie-Sangster), en route to the Wall. The two quickly get to swapping special powers stories: Bran mentions that he's a warg, and Jojen reveals that he can see the future.
Who is torturing Theon Greyjoy? The last time we saw Theon, he was knocked out by his own men in the middle of an impassioned speech about life, death, and war. Now we know what's become of him — sort of. He's in a mysterious location being questioned and brutally tortured by some guys we've never seen before. It's hard to tell what side his captors are on, since Theon gets punished no matter how he answers their questions about where his loyalties lie. There is a glimmer of hope though: one of the guys claims that Theon's sister, Yara, has sent him to help Theon escape. But escape from where? And more importantly, to where?
Brienne and Jaime duel it out. I have to say, I'm loving the dynamic between Jaime and Brienne, especially when their banter leads to a full-on sword fight. Brienne eventually takes Jaime down, but she barely has time to bask in her victory, since they're both captured by a group of Robb's men.
Arya gets a blast from her past. Arya, Gendry, and Hot Pie cross paths with a group of guys calling themselves "The Brotherhood Without Banners." Of course, this means bad news for the trio, and they're taken to a nearby inn. Unfortunately, some of the other brothers have brought in an even more interesting captive: The Hound, who recognizes Arya pretty much immediately. The Hound proved himself to be Sansa's sort-of-savior, but I'm pretty sure he just sold out the younger Stark sister.
Is Joffrey gay? Margaery and Joffrey get to spend a little alone time together, as Joff prepares to embark on a hunting trip. There's some pseudo-flirting as Joffrey teaches Margaery how to use a crossbow, but the most interesting part of the scene centers on a conversation the two have about Renly. Margarey admits that she believed Renly to be gay, which sends Joffrey into a state of disgust. A little too much disgust, if you ask me: Margarey tries to touch him during their conversation about Renly's "perversion," but Joffrey is clearly uncomfortable around her. Maybe he's just more interested in bloodlust than real lust, but something here feels amiss.
What did you think of this week's episode?