Game of Thrones Recap "And Now His Watch Is Ended"
Game of Thrones Recap, "And Now His Watch Is Ended": What We're Still Talking About
Game of Thrones may have taken a couple of episodes to hit its stride in season three, but we're really cooking now. It's hard to top last week's episode, what with the amputated limbs and all, but this week brings some major deaths, destruction, and all-around excitement.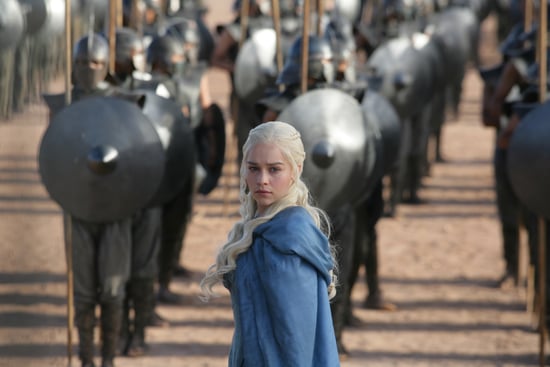 Jamie and his hot new human-hand necklace take the backburner as the men of the Night's Watch stage a rebellion, plans get made at King's Landing, and Theon doesn't even come close to catching a break. Let's break down the craziest moments when you
.
Theon got got. Just when Theon Greyjoy thinks he's out of the woods, he ends up right back where he started. Literally. The guy who saves him from a close rape encounter just takes him back to the torture chamber — but not before a weepy Theon admits that he killed two orphans and calls Ned Stark his "real father." Will those words come back to bite him in the ass? (Too soon?) But really — who is that guy?
Ding dong, the Craster's dead. The men of the Night's Watch aren't exactly loving life at Craster's Keep, and rumblings of a mutiny start up. Not only are they fed up with Craster, but their faith in their leader, Mormont, is dwindling as well. Eventually they're pushed to their limits and start a full-on riot, ending in the deaths of both Craster and Mormont. So what happens to all of Craster's sister-wives now?
It's my sorcerer in a box! Varys reveals to Tyrion how he came to be a eunuch: basically he was tricked by an evil sorcerer. Varys has always seemed powerful but also kind of gentle — until now, when he reveals to Tyrion that he's captured the sorcerer and is ready to exact revenge. The lesson here? Varys may not have balls in the literal sense, but he definitely has them in the metaphorical sense.
Nothing comes between

Dany

and her dragons. This week's episode goes out in epic fashion, as we see Dany kick some serious butt. Not only does she attain her army of Unsullied, but she frees them and manages to keep her beloved dragon. Oh, and she also has them murder all the evildoers in Astapor. Can we just get this girl to Westeros already? That Iron Throne is calling.
Happily never after. While King's Landing prepares for Joffrey and Margaery's wedding, marital plans for Sansa are also being made undercover — though Sansa doesn't have much say in any of them. Lady Olenna and Varys suspect that Littlefinger plans to take Sansa away and make her his wife, but they're not about to let that happen. Meanwhile, Margaery dangles the idea of marrying Loras in front of Sansa, an idea that Sansa obviously gets excited about, since she's had a crush on Loras forever and totally snuggles with his tournament favor every night. There's no way this is going to end well — even if she does end up marrying Loras, we all know that Sansa's not exactly his type. Plus, this is Game of Thrones. No one gets a happy ending!
How did you feel about this week's episode?