Game of Thrones Recap Season Two Premiere
Game of Thrones Season Premiere: What We're Still Talking About
After a year of waiting for the aftermath of Ned Stark's beheading, Daenerys Targaryen's dragons hatching, and war brewing in Westeros, Game of Thrones made its triumphant return this week, and the season two premiere did not disappoint. I was thrilled to catch up with the likes of Tyrion Lannister and Jon Snow, though less-than-enthused to be reunited with Joffrey and his evil ways.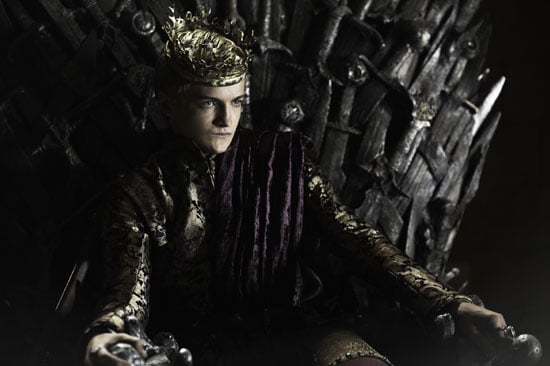 I don't want to give too much away for those of you that haven't seen it yet, but there are plenty of new developments (and characters) to break down — as well as a few omissions from the episode. Let's talk about the major moments we're still dissecting when you
.
Is Tyrion Lannister the new Ned Stark? With Ned (Sean Bean) gone, it seems that Tyrion (Peter Dinklage) may have replaced him, as far as screen time goes. And with good reason — Tyrion has the best lines as usual, and I ate up every scene as he settles into King's Landing as the new Hand of the King.
Joffrey is becoming more infuriating by the minute. Maybe it was the long hiatus, but I wasn't prepared for quite how evil Joffrey is coming out the gate in this episode. His lack of sympathy for Sansa is expected, but his cruelty has gotten worse than ever. Watching him try to drown someone with wine is hard enough, but the murder spree on Robert's bastards in the closing moments of the episode is shocking and heartbreaking.
Jon Snow's Big Love moment. I'm happy to see Jon Snow off the Wall (I'm happy to see him anywhere, really), and his ventures into the North get interesting really fast. We thought the Lannister incest storyline was bad, but the Wildling and his long line of wives/daughters makes Jaime and Cersei look like saints.
More Arya, please. I've been dying to find out what will happen to Arya now that she's posing as a boy and is riding with the Night's Watch, but she's only in the episode for a very brief moment. Hopefully that will change next week, as we see what will become of Gendry, Robert's only remaining illegitimate child.
Robb and Jaime's showdown. Ned may be gone, but Robb's growing nicely into his new role as the head of House Stark. He already seems light years more confident with three major wins under his belt, and it all builds up to his tête-à-tête with Jaime. Jaime's still got a sharp tongue for a prisoner, but he fails to shake Robb's swagger. (It probably helps that Robb has a now-extraordinarily-large wolf on his side.)
The dragons. The Stark family direwolves aren't the only animals in Westeros — Dany's dragons are in full effect, though they aren't exactly as fierce as one might think. For now, they're more like accessories that add to Dany's khaleesi garb. Cute, yes? Imposing? Not so much.
How'd you feel about the big premiere? Weigh in on your favorite moments in the comments!
Photo courtesy of HBO