Game of Thrones Recap "Walk of Punishment"
Game of Thrones Recap, "Walk of Punishment": What We're Still Talking About
I know a lot of other things happen on Game of Thrones this week, but I can't stop thinking about that final scene. But before that unforgettable moment, we check in with a lot of characters, like Jaime and Brienne, Jon Snow, Tyrion, and Daenerys. While Tyrion gets a new (but not great) title, Daenerys builds up her army by sacrificing something dear to her, and Jon and his Wilding companions come upon a grisly scene.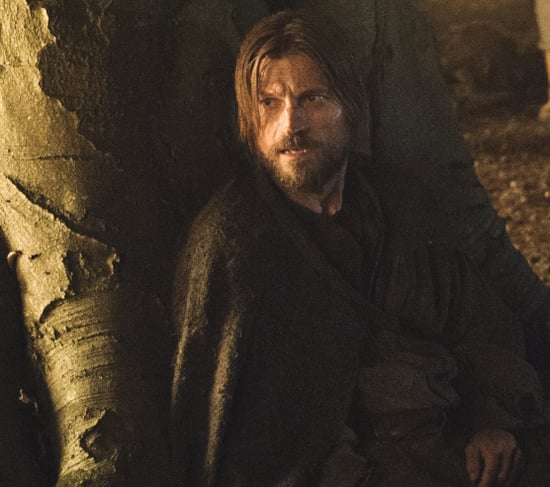 Game of Thrones season three isn't holding back on the graphic imagery, and this week is a good example of that — it's both violent and sexual, and there are a few moments we need to talk about. To get to them, just keep reading.
Jaime, your hand, man! We have to kick things off with the cliff-hanger, because jeeeez. Jaime's hand getting cut off is so gnarly. It seems so harsh, but I had to remind myself of all the bad that Jaime's done, because he's just done something nice by saving Brienne from being raped with his smooth talking. I know he had it coming, but it's so ironic that he gets that punishment right when he becomes sympathetic.
All the pretty horse (heads). Not since The Godfather has there been such a disturbing horse head scene (and that's a good thing). I can't get that horse-head design out of my head and shudder when I think about Mance Rayder's "always the artists" comment. I feel bad that I'm relieved it wasn't a bunch of dead Night's Watch members, but it pushes Jon's story forward, because Rayder sends him off to the Wall on a mission.
Not the best Katniss impression I've ever seen. Was that arrow scene at the funeral not unlike Curb Your Enthusiasm? Robb's uncle missed it so many times that even Robb gives an uncharacteristic (and totally hot) smirk. But seriously: get it together, dude.
My, that girl is bendy. I guess we haven't seen too much sex on this season so far, so as if to make up for it, there's a pretty raunchy "exhibition" when Tyrion gifts his squire Podrick with some three-on-one prostitute action. I saw way too much of that actress, but the aftermath is kind of funny when Podrick returns with all the money, having gotten his goods for free. Of course, Bronn and Tyrion want to hear all the pervy details.
Breaking bread. This is totally sappy, but I thought the scene in which Hot Pie gives Arya bread shaped like a wolf is super sweet. Well, bittersweet, since it's the end of Hot Pie's journey with Arya and Gendry. I wish him a great baking career!
Not the dragon! Daenerys is ready to bargain for those 8,000 Unsullied soldiers, and she offers up a dragon in exchange for them. She gets what she wants, plus that beautiful translator, but is she really going to give up one of her dragons? That seems like a bad idea.
What did you think of this week's episode?