Game of Thrones Recap "What Is Dead May Never Die"
Game of Thrones, "What Is Dead May Never Die": What We're Still Talking About
This week's Game of Thrones introduces us to a few new characters, while giving a bit of the spotlight to Tyrion, Theon, and Renly, and happily, there's no Joffrey again this week (though we get a good bit of Sansa). Renly is on a throne with a new wife, Theon makes a decision about where his loyalty lies, and Tyrion masterfully orchestrates a ruse. Oh, and as usual, there is a ton of blood courtesy of some very stabby soldiers.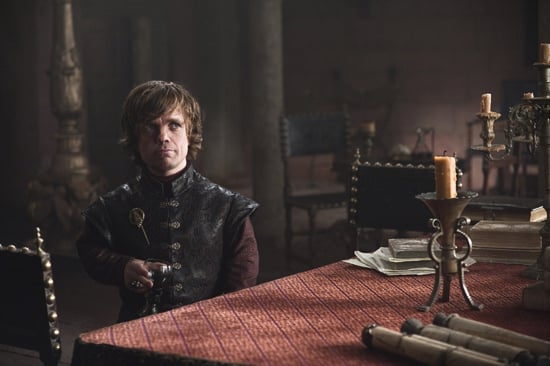 We're missing scenes with Dany and Robb, but lots of action goes down in Westeros this week. Ready to recap? Just keep reading.
Don't save the date: Sansa is spared this week from Joffrey's torture, but not his mother's. Cersei delights in a dinnertime conversation in which she talks about the possibility of Joffrey killing Robb — and how Sansa will have to respect it. I felt as sick as Sansa looks when Myrcella asks about her wedding (let's hope this is a long engagement). Meanwhile, an opportunity presents itself when Shae complains to Tyrion that she's tired of being kept in his room, so he arranges for her to become Sansa's handmaiden. They have a rough start, but hopefully it's only a matter of time before hair brushing leads to them being confidantes. That girl needs a friend.
Like a dog: Theon confronts his sister about how she didn't tell him who she was before he had his hands in her pants in last week's episode, and she explains that she wanted to find out who he was as a person first, and she did. Ouch. That and the conversation he has with his father about how he'd been given away "like a dog" when he was a boy (my favorite Theon Greyjoy scene of the series thus far) leads to Theon pledging to forsake his "other family," the Starks, to prove his devotion to his own clan.
Sex and the king: When we catch up with Renly Baratheon, he's crowned himself king and he promises Catelyn that he'll gladly have Joffrey's head on a stick. He also has a new lady by his side, Margaery, who is Loras's sister — pretty funny considering that Renly only has eyes for Loras. When Margaery tries to seduce her husband, he blames the wine for why he's not physically up to it, but she's smarter than that. She casually suggests that her brother comes in and helps out, and though Renly acts shocked, Margaery expresses that she doesn't care — he just needs to impregnate her with an heir.
A game of cat and mouse: Tyrion roots out a mole when he pretends to broker a deal to marry off Myrcella, and tells Littlefinger, Pycelle, and Varys a different groom so he'll know who blabs to Cersei. Cersei goes ballistic over the arrangement for her only daughter, and Tyrion discovers that Pycelle is the one who's been leaking everything to Cersei. Pycelle loses his beard and his freedom.
Snowfall: Poor Jon Snow's pretty face. We don't get to see a lot of him this week, and when we do, he's bruised and bloodied from Craster's attack, and he still doesn't know what picked up the baby in the woods. Sam, still nursing a crush on Craster's daughter, gives her a token he got from his mother. While I love Sam and think this scene is very sweet, I worry that his feelings will somehow put Jon Snow in danger again, and I am not cool with that.
Clever girl: Arya loses her guardian of sorts, Yoren, when Joffrey's soldiers raid their camp and slaughter many of the inhabitants. They ruthlessly kill a young boy who's complaining of his injury (my vote for this week's goriest moment), and when the soldiers demand that they give up Gendry, a quick-thinking Arya tells the soldiers that they've already gotten Gendry, indicating the boy they had just killed.
I'm excited about the other character we meet, the female soldier Brienne of Tarth, and though we just get a brief introduction, you can sense that there are big things coming from her. What else did you like about this week's Game of Thrones?
Photo courtesy of HBO