Game of Thrones "Somebody I Used to Know" Parody
8 Things That Made Us LOL This Week
The Internet didn't disappoint this week — there were plenty of clever mashups, silly interviews, and creative drawings from around the web that had us laughing out loud. Thanks to a hilariously spot-on Game of Thrones song and a set of "Simpsonized" characters, we realized that there can never be too many parodies of the show. Take a look at all the videos, pictures, and interviews that cracked us up this week:
"A Character I Used to Know"
Game of Thrones is notorious for killing off some of its most popular characters, so one performing group reimagined the lyrics to Gotye's "Somebody I Used to Know" for a spot-on video, costumes and all.
A Young Girl Interviews Ryan Reynolds
At the NYC premiere of Turbo, a 10-year-old KidzVuz.com reporter Faith King interviewed Ryan Reynolds on the red carpet, taking the opportunity to ask him pressing questions about his favorite snack and his worst personality trait.
Kids Interviewed by Jimmy Kimmel
This week, Jimmy Kimmel sat down with some kids to ask two important questions: who is the richest person in the world, and why doesn't it hurt when we cut our hair? Their responses are pretty priceless.
Read on for more funny videos and pictures.
A Boyfriend's Frightening Prank
One guy took pranking his girlfriend to a whole new level by waking her up with a ghost coming out of the television — like something out of The Ring. Funny or cruel?
Ryan Gosling and a "Crazy Ex-Girlfriend"
Ever wondered what it might be like to see a star interviewed by his outspoken ex-girlfriend? HelloGiggles made it a (fake) reality with this hilarious video.
The Cosbys Rock Out to "Blurred Lines"
The Cosby Show met Robin Thicke's "Blurred Lines" in a silly mashup that features some of the TV family's best moves.
Game of Thrones Gets "Simpsonized"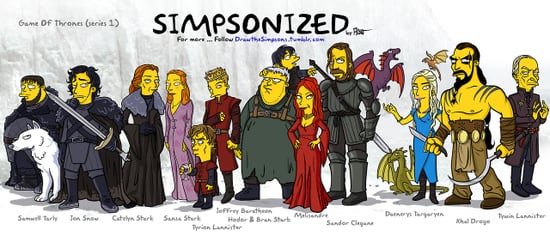 The latest characters to be "Simpsonized" on the Draw the Simpsons Tumblr are from Game of Thrones, including everyone from Daenerys Targaryen to Robb Stark. So accurate!
Sesame Street Sings Daft Punk
Daft Punk's "Get Lucky" has already gotten its fair share of mashups, and now there's a Sesame Street version. Who knew Grover had such smooth moves?