Games of Thrones Recap "The Rains of Castamere"
Game of Thrones Recap, "The Rains of Castamere": What We're Still Talking About
Well, now I know why they call it the "red wedding." On this week's Game of Thrones, we lose not one but a few beloved characters at what's supposed to be a blessed event. I can't say we didn't see it coming, but it doesn't make the losses any easier to take. I don't think I've felt this despondent since Ned Stark died, and I can barely even think about anything else that happens besides that final devastating scene.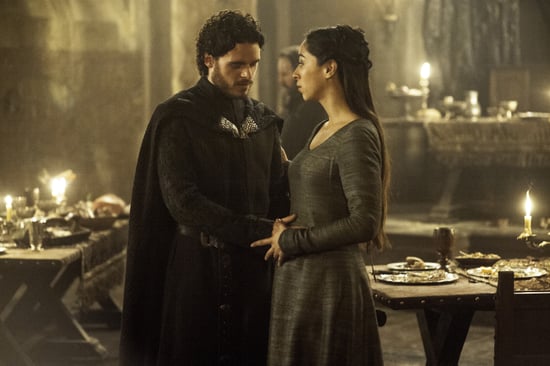 There is a bit of development for Jon Snow, Arya Stark, and Daenerys Targaryen, but I'm still reeling from the red wedding. Let's just get to all the craziness after the jump.
The reddest of weddings. You guuuys! Robb is dead. And Talisa. And Catelyn. Walder Frey had been acting way too cool with Edmure subbing in for Robb as the man who's marrying one of his daughters (aside from that weird objectification of Talisa). Everything is going great — turns out, Edmure's bride is totally hot, and Robb and Talisa are all moony over each other, with Talisa cooing that she wants to name their baby after Ned. Suddenly, Frey locks everyone in and gets his payback for Robb's betrayal. Talisa is killed first, stabbed repeatedly in the stomach, and then Robb and Catelyn are gravely wounded. Catelyn tries to negotiate for Robb's freedom, taking Frey's wife as a hostage, but Frey is merciless. Bolton steps forward to kill Robb and reveals his disloyalty, telling him the Lannisters send their regards. Catelyn watches for one pained second before she, too, is killed. And . . . that's the end of Robb. I'm so drained and upset.
Arya can't catch a break. I guess it's good that Arya doesn't get reunited with Catelyn and Robb and suffer their same fate, but it's still so sad that she almost makes it to them. It's like The Hound says — she's so close, but her fear about not getting there turns out to be true. The Hound tells her it's too late, and she watches Robb's direwolf die, so it's like she already knows, but I don't think I'll be able to watch her getting the news that her mother and brother are dead now, too.
Bran power. Here's another Stark missed connection: Jon Snow and the wildlings are just outside the tower in which Bran, Rickon, and their group are hiding. Bran has a breakthrough when he's able to get into Hodor, who's freaking out and about to give them away. Jojen tells him to get into one of the wolves, and Bran does, seeing Jon and helping out when Orell and Tormund attack Jon and Ygritte. It bolsters Bran to continue in his quest to find the three-eyed raven, but he insists on going with only Hodor, Jojen, and Meera, leaving Rickon and Osha behind.
A wildling scorned. Jon can't continue his charade anymore when Tormund and Orell challenge Jon to kill an innocent man. Jon kills Orell and gets on a horse to ride away — but leaves Ygritte behind. Yikes. I can only imagine what she'll do to him for abandoning her if she ever catches up to him.
Game of chemistry. So how long before Daenerys and Daario Naharis are getting it on? It's so obvious that it's coming soon, and it is going to be awesome.
What did you think of this week's episode?