Gangster Squad DVD Release Date
What to Rent: New DVDs This Week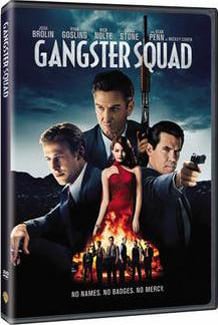 There's plenty of eye candy in this neo-noir gangster film set in Los Angeles circa the 1940s and '50s. Josh Brolin plays an honest cop in a corrupt world. He rounds up a group (including a sweet cop played by Ryan Gosling) to try to clean up the city and attempt to take down mafia boss Mickey Cohen (Sean Penn). Some of the performances and action sequences border on cartoonish, but the film is worth seeing if not just for Gosling's chemistry with love interest Emma Stone. The DVD includes director's commentary, deleted scenes, and making-of featurettes.
32%
Naomi Watts earned an Oscar nod for her performance in The Impossible, which chronicles a family's harrowing experience with the 2004 tsunami in Thailand. The movie showcases strong acting from both Watts and Ewan McGregor, who plays her husband, as well as the three boys who play their sons, but it's not easy to watch, and you're likely to be in tears by the end. The DVD comes with director commentary, as well as deleted scenes and a casting featurette.

81%
See one more new release after the jump.
Representatives from a natural-gas drilling company (Matt Damon and Frances McDormand) are faced with a unique challenge when an environmentalist (John Krasinski) starts complicating their job. The two opposing forces square off for the favor of the residents of a small town, including a pretty young land owner played by Rosemarie DeWitt. Damon and Krasinski have great competitive chemistry, but the movie gets a little tedious. The DVD comes with extended scenes and a making-of featurette.
51%