Gangster Squad Review
4 Reasons to See Gangster Squad (Besides Ryan Gosling)
In Gangster Squad, Josh Brolin plays an honest detective determined to make Los Angeles a better place to live, especially for his wife (Mireille Enos) and his baby on the way. Unfortunately, the city is overrun with crime, led by mob boss Mickey Cohen (Sean Penn). To take him down, John (Brolin) enlists the help of a ragtag group of cops, each handpicked by his wife based on skill set. The story, which is set in the '40s and '50s, is based on real-life boxer-turned-gangster Cohen. Penn's performance as the Jewish Mafia kingpin borders on cartoonish — as do some of the shoot 'em up sequences — but overall, Gangster Squad is entertaining from start to finish. Here are four reasons to check it out (besides the fact that Ryan Gosling costars in the film).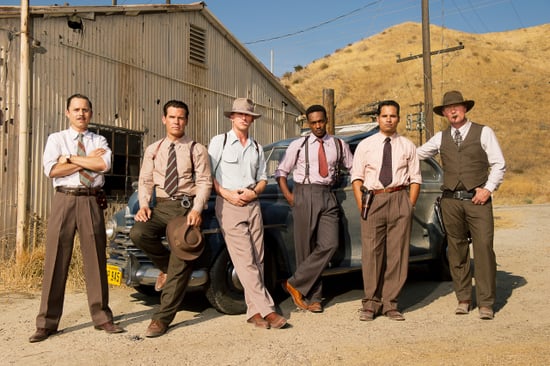 All of the actors and characters are engaging. The members of the Gangster Squad include Jerry (Gosling), a smart-mouthed but sweet cop in John's precinct;

Coleman

(Anthony Mackie), who's been holding down the fort in a different part of town; Conway (Giovanni Ribisi), who's essentially the brains of the operation; Max (Robert Patrick), the perfect shot; and his sidekick, Navidad (Michael Peña). All of the actors bring life and personality to their characters, which makes them consistently entertaining if not slightly caricatural. John himself is an easy character to root for, even when he essentially starts committing the same crimes he's trying to eliminate. The cast is big and star-studded, but each of the actors pulls his own weight and leaves an impact.
Gosling and

Emma Stone

still have sweet chemistry. If you saw Crazy, Stupid, Love, then you know that Gosling and Stone sizzle when they're on screen together. As it turns out, their connection works equally well in drama as it does in comedy. Stone plays wannabe starlet Grace, who finds a potential escape from her abusive relationship with Mickey when she meets Jerry. Grace and Jerry's relationship starts as an innocent flirtation before blossoming into a full-on forbidden affair. Not only does their love give you another reason to hate Mickey, but Gosling and Stone's scenes together are a welcome reprieve from all the violence.
The setting provides plenty of eye candy. The retro setting is done to a T, from Stone's gorgeous gowns to the original "Hollywoodland" sign that serves as LA's most recognizable landmark. The costumes, sets, and props all add to the cinematic experience.
The plot moves at a perfect pace. The story of Gangster Squad unfolds at just the right rate; director Ruben Fleischer introduces us to each character and develops them gradually, while also providing plenty of action sequences to keep things moving swiftly. The violence can be a bit gratuitous, but with a title like Gangster Squad, it kind of comes with the territory.