Garry Marshall's Valentine's Day To Get a Sequel Spinoff New Year's Eve 2010-02-08 12:30:45
Valentine's Day Gets a Sequel: 5 Other Holiday Rom-Com Ideas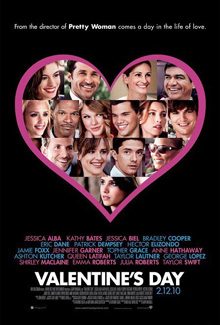 You ready for this? The star-packed Valentine's Day — which hasn't even hit theaters yet — is reportedly getting a sequel. The new installment will be based around New Year's Eve instead, with an ensemble of characters celebrating the big day in the setting of New York City. The plan is to have a few of the Valentine's actors return along with their director Garry Marshall for consistency.
New Year's Eve is definitely ripe for a good relationship storyline (just think of the classic When Harry Met Sally ball drop scene), but where do the holidays stop? The possibilities seem endless. So with that in mind, I'd like to pitch Hollywood the following holiday-themed romantic comedies.


Mother's Day: Two single people take their mothers out to dinner for Mother's Day, but uh-oh, the restaurant double-booked their table, so they're stuck sitting with each other. What begins as pure disgust — he's a slovenly eater, she's too picky — turns into romance as their moms plot in the ladies room to get them together.
St. Patrick's Day: It'd be like if The Hangover was a rom-com. You have two separate groups of friends on bar crawls when he spots her — a co-ed in a green belly shirt doing shots of Jameson. They get drunk together, dance an Irish jig, and by the end of the night, he's holding her hair back.
For three more of my premise suggestions, just
.
Halloween: A costume ball serves as their meeting place. She shows up as eggs; he's dressed as bacon. They break the ice with bad breakfast puns and bond over their mutual love for Michael Jackson's "Thriller" ("You love 'Thriller?' Oh my gosh, I love 'Thriller!'"). They head to a diner before walking off arm in arm into the sunrise.
Take Your Daughter to Work Day: Two divorcees bring their precocious kids along to their offices. Bored, the children devise a plan to set up their parents by leaving fake love notes on post-its and emailing poetry copied from Wikipedia. Once the parents realize what's happened, it's too late — they've already fallen for each other.
Talk Like a Pirate Day: Yes, it's a real holiday. A group of guys celebrate by partying it up at a pirate ship theme restaurant. The film quickly turns into a thriller when a group of real swashbucklers overtake the establishment, forcing the star waitress to walk the plank. Starring Peter Sarrrrsgaard and Scarrrrlet Johansson.