George Clooney Had an On-Set Descendants Injury
George Clooney Reveals an On-Set Injury and Talks Politics at Critics' Choice
A dapper George Clooney snapped up the best actor honor at the Critics' Choice Awards tonight before stopping to talk about The Descendants and his take on politics with reporters. George weighed in on his slightly dorky wardrobe in the film and an on-set injury he said he hadn't revealed until now. He also shared a sweet moment with his friend Viola Davis, who won best actress, as they hugged and posed for pictures together backstage.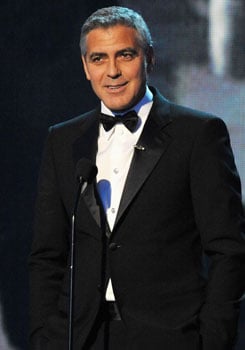 On his on-set injury: "Amara, who is the younger child, had never been on a set before, and she went behind me, one day when were sitting in Kauai, so we're out in the middle of nowhere, and took her hand and smacked me on top of the head, because that's what she does. And it was funny, but it broke my two front teeth and I had to go shoot. So I had to go get Krazy Glue and take my pieces of my teeth and glue them in to finish the shot. And Alexander [Payne, the director] came in and saw me gluing my teeth in and made some joke about the fact that I really was from Kentucky."
On his wardrobe in The Descendants "That was almost ending all masculinity, the minute you pulled the khakis up about there, and the Hawaiian shirt tucked in down to there."
On the moment he realized the movie resonated with people: "The first time we showed it to . . . a critical audience and the first time we understood and heard people laughing. Because the funniest thing is, when you're doing it, there are a few moments in the film that we knew were going to be funny, but there were a lot of moments . . . that weren't necessarily there as the actors. The actors didn't know. So it was nice to hear some of the laughter, because that really set up some of the really rough stuff later."
On what he would do if he were president: "OK, I'm going to get right on that, because that seems like such a fun job, doesn't it? There's not much I could do there. There are very smart people around — much smarter than me — doing the best they can."
On using his fame for good causes: "As someone who's not in politics . . . I find that it's very helpful to find one or two specific things to educate yourself about and try to exploit that as much as you can. Exploit your fame or whatever that is to focus on that . . . I find that for people in my position that get an awful lot of attention — a lot of attention — it's nice to be able to refocus that on people who can't get any attention."