Gifts For Parks and Recreation Fans
Buzz Gift Guide: Parks and Recreation Presents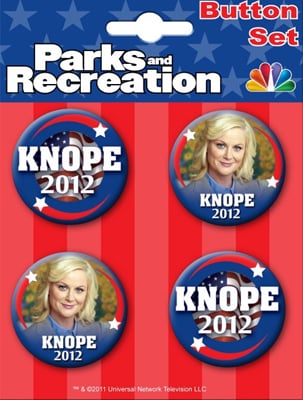 Have a friend who can't get enough of Parks and Recreation and the crazy Pawnee crew?
For a perfect stocking stuffer, these Knope 2012 Buttons ($6) will help show support of Leslie in her upcoming election. Buying this "freaking awesome" Pawnee Goddess T-Shirt ($26) should be your first order of official business for your Pawnee Goddess troop. Or maybe you have a serious Swanson lover on your hands? Look no further than the Swanson Pyramid of Greatness ($20). Follow its advice and your friends will find themselves transformed from "boy to a man, from a man to a gladiator, and from a gladiator into a Swanson."
Hopefully, you know someone that loves Parks as Rec as much as we do; they'd be thrilled to get any of the Pawnee-inspired gifts we've pulled below. And if for some reason you don't know someone who adores the show in the same vein you do, I urge you to "Treat Yo Self." Some of these gifts are just too good to pass up.