The Girl With the Dragon Tattoo Movie Review
The Girl With the Dragon Tattoo: Fincher's Beautiful, Dark, Twisted Film
It's hard to describe The Girl With the Dragon Tattoo without giving away major plot points that would spoil twists and turns to audiences that haven't already devoured Stieg Larsson's novel of the same name. To those who already know the story, I can tell you that David Fincher's adaptation is (mostly) loyal, with a couple of changes that actually function as surprise treats for those who have read the novel. To those who aren't familiar with the story, I can tell you to buckle your seatbelt. The imagery that unfolds over the opening credits of the film, set to Trent Reznor's take on "Immigrant Song," is intense, and edgy, and strangely intriguing — which is perfectly fitting for the film.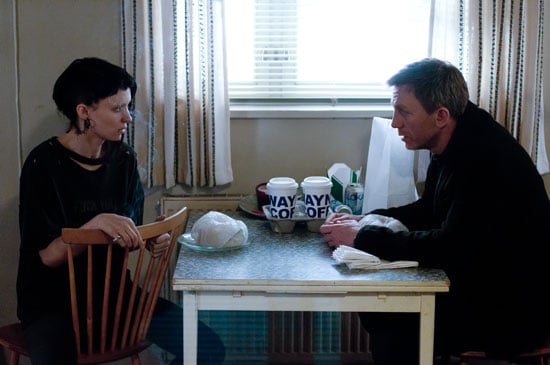 Daniel Craig plays Mikael Blomkvist, a charismatic journalist who's been commissioned by an elderly man named Henrik Vanger (an excellent Christopher Plummer) to solve a seemingly impossible mystery: to find out who murdered his great-niece over 40 years ago. Once Blomkvist accepts the challenge against his better judgment, he unwittingly starts digging up old family secrets that prove to be much more dangerous than what he'd expected.
When Blomkvist hits a roadblock in his digging, he enlists the help of a research assistant, the titular girl with the dragon tattoo. She's better known as Lisbeth Salander (Rooney Mara), a leather-clad, skinny girl who is as brilliant as she is brusque. She's guarded (for a very good reason), but she can't say no to Blomkvist's offer to track down "a killer of women." The unlikely chemistry between Craig and Mara is surprising, fun, and manages to eke out a few light moments (particularly when Salander is scoffing at Blomkvist's computer skills).
To find out more about why the film is great, just
.
With that said, there's a reason why Fincher has been touting his film as the "feel bad movie of Christmas." Larsson's novel takes sadistic, often jaw-dropping turns, and Fincher ensures that his film will have the same unsettling effect. He doesn't hold back, as certain scenes will have you squirming in your seat. Though it's even more graphic than what I was prepared for, the emotional toil only makes you want the hero and heroine of the film to triumph all the more.
And triumph they do: Mara is mesmerizing as Salander, from her accent to her facial expressions to her few moments of comedic timing. She is fully immersed in the pierced, antisocial hacker: you won't find any traces of the fresh-faced girl we met in The Social Network. Mara brings a tiny bit more emotion to the film than the Salander in the novel, which proves to be an important device as we no longer have the luxury of seeing inside the psyche of such a complex character.
What makes The Girl With the Dragon Tattoo such a satisfying thriller are the additional touches: the unsettling, snow-covered setting in Hedeby island off the Swedish mainland is creepy for its isolation and howling winds alone. The score plays to your emotions without hitting you over the head with an overly haunting soundtrack. But ultimately, it's Mara's performance that will keep your knuckles white and your eyes glued to the screen.
Photos courtesy of Sony Pictures