Glee 2010 TCA Panel With Season 2 Spoilers, Quotes, and Photos
Glee Celebrates a Crazy Year by Giving the TCA More Season 2 Details!
Fox had a full day of introducing its brand-new shows at the Summer TCA, but they took the time to bring out one of last year's biggest success stories: Glee. Series creator Ryan Murphy and other showrunners were on hand to talk about their first, Emmy-nominated season and what we can look forward to in the upcoming season (besides all the fun stuff we heard at Comic-Con).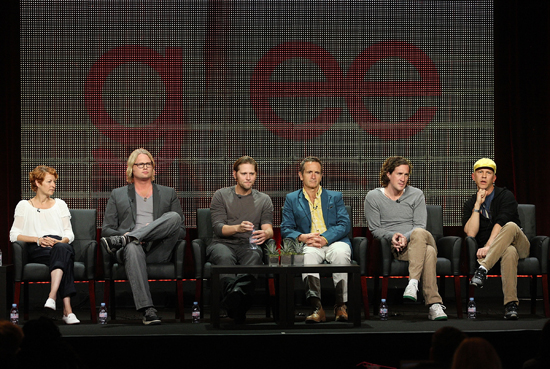 We're all salivating for the Britney Spears episode, but besides saying it was going to be "unusual," Murphy took the chance to address the comments Matthew Morrison made when the possibility of a Brit episode was first brought up (he famously said he didn't want the show to go that route). Morrison's attitude actually served to inspire part of the episode — Mr. Schuester will be fighting against the kids doing Britney songs within that episode. Meta.
Murphy says that it's easier to get artists to agree to use their songs on the show, because they realize that it's "an ultimate pop culture love letter to those artists." How easy is it? Musicians are trying to get their music played — like Paul McCartney, who sent Murphy a mixtape of Beatles tracks he'd hoped Murphy would consider, like "Michelle."
To read more Glee tidbits from the TCA, just read more.
A valid concern that was brought up about the high school-set show is where the series will go in the future. Murphy says he has the first four years with the original cast already mapped out, but beyond that, they haven't really thought about it. He did joke that breakout character Brittany "is going to be held back every year."
The one bit of criticism about the show was regarding character inconsistency. After Murphy quipped that if that's unrealistic, you've never worked with him, he chalked it up to the characters being teenagers. "They feel one thing today, and another thing tomorrow." He used Quinn as a specific example, since she was pregnant, and therefore hormonal.
Even though there are so many songs the show can do, we're going to get to see a whole episode of original songs. The plot of the episode will have the kids writing their own songs to perform. I can't wait!