Glee Episode Recap "Special Education" 2010-12-01 06:30:00
Glee-Ful Highlights From Episode "Special Education"
Can you believe it's already time for sectionals on Glee? New Directions makes the journey to the competition this week as Kurt tries out his new school and Schue tries something different with the club. That's hardly the only shakeup — many hearts are shattered by the end of the episode as romantic revelations come to the forefront.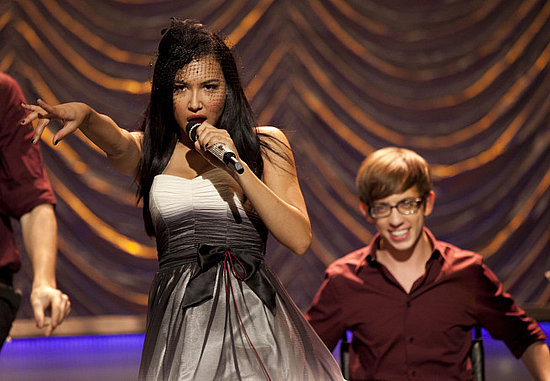 I'm still singing along to "Dog Days Are Over," and so I'm ready to talk about every last detail. Relive the episode with me when you read more.
Though there's no explanation of where she's been, Emma's back, and she advises Will to share the spotlight with the kids who don't usually get a lot of attention. He invites her to come to sectionals as the group's good luck charm, but she declines because of Carl (he's rightfully uncomfortable with Will and Emma spending time together). At least she's happy; she admits to Will that she and Carl have just said they love each other, but that's not even her biggest news. More on that later.
Kurt is safely deposited at Dalton, and he's experiencing everything new: new uniform, new friend Blaine, new glee club. The Warblers let him try out for a solo, and he goes to McKinley's number one drama queen to pick the right song.. Rachel suggests "Don't Cry For Me Argentina," which is rousing for the show, but not quite what the Warblers are looking for. Meanwhile, with Kurt gone, Mr. Schue recruits Puck to find the club a 12th member (as the official "Ambadassador" if you will). Though he brings the proper enthusiasm to the football team, the jocks aren't impressed with his invitation, and they trap Puck in a Port-a-Potty for 24 hours. His savior is Lauren, who becomes the default new member of the club.
After it came up briefly last week, Santana cruelly spills the beans about sleeping with Finn, humiliating Rachel in front of everyone. Already devastated that Schue has relegated her to the background for sectionals, she jealously acts out. Rachel and Finn make up after agreeing to be honest with each other, so Rachel fesses up to her own secret: she hooked up with Puck. Finn can't forgive Rachel's cheating (they were on a break . . .?), and he dumps her then and there. The most surprising part about this scenario is that Puck is the one who put the brakes on the makeout session. Maybe that Port-a-Potty really did change him.
We have our first exposure to Artie and Brittany as a couple, and it's interesting. When she's nervous about having to dance with Mike at sectionals, Artie is the sweet boyfriend who knows exactly what to say to his dim-bulb girlfriend. He gives her his "magic comb" and Brittany is ready to rock. One person has a weird reaction to Brittany and Mike being paired together is Tina, who's convinced they're having an affair. Is her paranoia an indication that she's not totally happy with Mike and may make a play for Artie again?
At sectionals, The Hipsters are the group that really rocks my boat with "The Living Years." Maybe it's that song, but when The Warblers take the stage with "Hey Soul Sister," they're cute, but not amazing. Plus, it's clear that Kurt is lost in the homogeneous, cookie cutter group in which pretty much only Blaine is allowed to shine.
As much as I love Ken and Barbie Quinn and Sam, their impression of Baby and Johnny to "(I've Had) The Time of My Life" isn't as strong as I hoped the lead-off would be. But when Santana takes on Amy Winehouse's "Valerie," I was blown away. Her character may be a terrible person, but as a performer, she's dynamite.
And the winner of sectionals is . . . a tie?! Yep, New Directions and The Warblers are both going to regionals! Back at McKinley,

Mercedes

and Tina celebrate by singing "Dog Days Are Over" (why didn't they do that song at sectionals?). Everyone looks like they're having more fun than usual as they all happily rock out to the joyful song . . . well, everyone but the heartbroken Finn and Rachel.
After sectionals, Emma has some even better (well, for her) news: she and Carl got married in Vegas over the weekend! Thus, Will loses Emma again. But is that a look of confusion on her face at the end of the episode?
Did you think the glee club deserved to win it all at sectionals? Are you disappointed that Emma is off the table for Mr. Schue again? And how long do you think it will be before Finn and Rachel get back together? Chat about the episode now, and after, check out the Glee Club in the BuzzSugar Community!