Glee "Makeover" Recap
Glee-ful Highlights From Episode "Makeover"
Just when you let your guard down and start thinking, "Hey, aside from all that spontaneous music-making, Glee's a pretty realistic show," episodes like this week's take a sharp turn into Fantasyland territory. Sure, it's business as usual at McKinley High, but over in New York, Kurt is living the dream. He snags a dream internship at Vogue working for editor Isabelle Wright (guest star Sarah Jessica Parker) and manages to provide Rachel with a once-in-a-lifetime makeover. Let's go ahead and pick apart this implausible episode one insane occurrence at a time.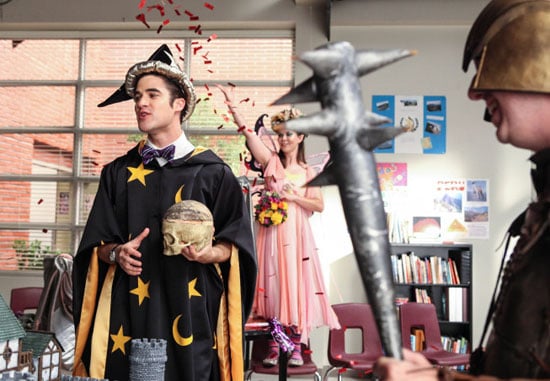 Reigning student body President Brittany S. Pierce isn't about to turn over her power just yet, so she again recruits Artie to run with her. Blaine throws a wrench in her plan when he, too, decides to run. Can you feel the tension? I can. Let's review all the episode's highlights when you
.
Hip, hip, hooray! It's a Blaine episode! Or at least that's how it seems when the show opens on him singing a quintessential '80s hit, "Everybody Wants to Rule the World." Let's be real; Blaine's the best, and if they turned this into The Blaine Show, I'd be cool with it. Now that Kurt is gone, he's feeling out of place, but I really hope his conversation with Sam isn't foreshadowing a decision to ditch McKinley High. (Unless it's headed toward a spin-off, in which he and Kurt just critique Treme for an hour. In that case, I'm in favor.)
Speaking of existential crises, Mr. Schue is having his own Eat Pray Love-style breakdown. Not only has his first successful class of glee-clubbers moved on, but also, he's out of ideas. It looks as if he's found a cause worthy of his time, but if he has to take leave from the school, who's going to take over as glee coach?
I truly don't even know how to get started on the absurdity of Kurt's situation this week. First, he somehow gets an interview with an editor at Vogue based on his blog. Let me run that by you again: based on his blog, Kurt scores an interview with an editor at Vogue, then gets hired on the spot because the woman has a "feeling" about him. Oh, she also happens to be the most terminally insecure woman in the Conde Nast building and forms an instant friendship with him, confiding to him her deepest fears. I'm making a "give me a break" face right now.
Because Kurt now has access to the couture closet at Vogue (obviously), he decides to give Rachel a makeover. I've never thought she needed a makeover, but I'll go with it. What I will not go with is the idea that not only can Kurt break into the Vogue closet after hours, but also that when he gets caught by his boss, she just joins in on the makeover fun like this is some kind of Disney movie. Not. Real. I will say that Parker does a commendable job with the quaint rendition of "The Way You Look Tonight," though.
I appreciate the makeover story line, because it progresses Rachel's romance with Brody. He's liked her from day one, but apparently she just needs a She's All That moment in order to accept his advances. But just as they finally start making out to "Moon River" (is this 1962?), Finn shows up! He's been MIA this season, and now he's back, and my emotions are on a roller coaster.
Brittany and Sam are stealthily moving into the top-dog space formally occupied by Finn and Rachel. It's only a matter of time before they get together, especially if Sam keeps up with those inspired pep talks. (The dude is seriously killing it in the pep-talk department.)
Some questions that came up during the viewing of this episode: Are Sam's impressions actually hilarious 100 percent of the time? Was that Lena Dunham burn totally called for? How much time did it take to coordinate that astounding flag choreography for "Celebrity Skin"? How sweaty would leather socks be? (I think I know the answer to that one.) What did you think of the episode? Let us know your thoughts, and enjoy the playlist of all this week's songs listed below!