Glee "Nationals" Recap
Glee-ful Highlights From Episodes "Props" and "Nationals"
It's a Glee double whammy this week as the New Directions prep for, and then head to Nationals! As we've seen at the end of each season, emotions are running high, as the kids get ready to take on Vocal Adrenaline. The stakes are even higher this year since a lot of the seniors are graduating, and there's one gleek in particular who's feeling a little left out.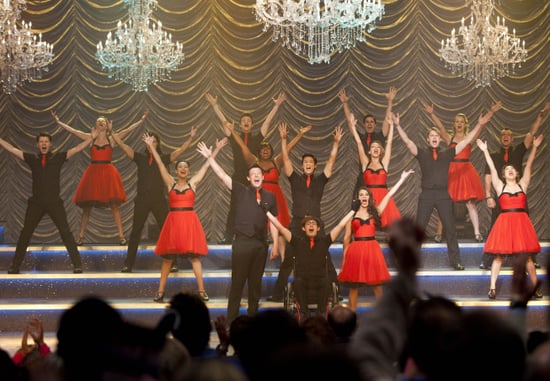 Season three has not been my favorite, but both of this week's episodes won me over in a big way. The first hour is both funny and poignant, while the second is very sweet and sentimental, as we get ready to say goodbye to some of the core cast members. The night definitely brings back memories from the first season when the show took the world by storm, and reminded me why I fell in love with it in the first place. Let's break down the highlights when you read more.
I'm glad Tina finally gets a little time to shine, though it's a bit awkward that the opening voice-over is all about how the show has essentially ignored her for the first three seasons. Still, it's a nice break, and the sweet moments between Rachel and Tina feel authentic and are fun to watch, particularly when Tina offers to take Rachel on a road trip to see Carmen Thibedeau. And though it's not my favorite number of the night, I love that Rachel gives Tina her wish to duet on "What a Feeling."
Just because it needs to be mentioned: Kurt and Blaine's Halloween costumes as Snooki and the Situation. Amazing.
OK, the switcheroo moment was everything I hoped it would be and more. Though the sneak peek pictures gave away who would become who during Tina's dream, it's still amazing to see the kids all mixed up: particularly Artie as Santana. Genius. My head continued exploding throughout the entire sequence, especially seeing the reaction shots to Tina's rendition of "Because You Loved Me" (Mr. Schue's impression of Sue is spot-on). Speaking of which, Tina totally kills the song: are we getting a preview of what Glee might be like next season?
Coach Beiste has had to do some emotional heavy lifting lately, but this is one of the few times we see Puck truly vulnerable. His feelings of inadequacy about his future come to a head when one of the bullies at school challenges him to a fight in the schoolyard. After Beiste breaks it up, Puck breaks down in tears about feeling like garbage, and he and Beiste comfort each other in a truly touching moment. What's even better is that Beiste proceeds to dump Cooter, and she and Puck sing a sweet duet of Taylor Swift's "Mean." (Honestly I'm surprised it's taken Glee this long to get that song).
I love all the throwbacks to the first season in this episode; there's talk of Tina's first audition, some reminiscing about Puck's days tossing kids in dumpsters, and even an utterance of the Glee-patented insult "lima loser." Those were the days.
How is it possible that the New Directions are, yet again, about to perform at Nationals and they're still trying to slap together the routine just hours beforehand? It's no wonder they're all on edge, but at least they aren't trying to write their own songs this time around.
I can't even talk about how much I loved every one of the New Directions' performances at Nationals; this is by far and away my favorite performance episode. I had chills during "The Edge of Glory," which turned into goose bumps for "It's All Coming Back to Me Now." But the real kicker is "Paradise By the Dashboard Light" — the number is mesmerizing, and I felt proud of how far they've come. I can't remember the last time I was so caught up the performances of this show. They absolutely nailed it.
As for Vocal Adrenaline, well, they certainly bring the theatrics. I'm a fan of Unique's, but something about their numbers lacked energy. But maybe that's because the dudes were so tired from picking up the girls repeatedly and pushing those heavy-looking pinball machines around?
Giving Unique the suddenly existent MVP award is a nice consolation when the New Directions win the grand prize. I do kind of wish they'd give up the celebrity judges' shtick though. No offense to Lindsay Lohan, but getting a peek inside the self-involved judges' room used to be funny but now it just feels stale.
The scene where we get to watch the New Directions celebrating their victory feels like three years coming, and it actually could have been a very fitting end to the series as a whole. The kids are about to graduate and move away, and now they've finally got the biggest trophy in all the land. Hell, they even let Will and Emma finally do it (though did that really need to be shoehorned in with the confetti?). The icing on the cake, of course, is Mr. Schuester's Teacher of the Year award and the performance of "We Are the Champions." A perfect end to a great episode.
With only one more episode to go, it all culminates with next week's graduation episode. Were you touched by this episode like I was? What'd you think of the New Directions' showing at Nationals?