The Glee Project Is Oxygen's Reality Competition Show to Win a Role on Glee
How The Glee Project Will Find the Next Glee Star
Although Glee didn't get a panel at the Winter TCA this week, it still definitely had a presence. Not only did I get to chat up Cory Monteith earlier this week, but The Glee Project, Oxygen's reality competition series, also made a stop at the TCA. The show, which premieres in June, lets aspiring singer/actors compete for a guest role on Glee, and the producers and casting director (Robert J. Ulrich, the same casting director from the real Glee) talked about the partnership between the drama and the reality.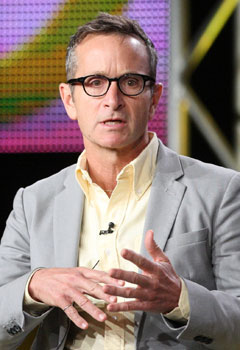 How much does the "real" Glee factor into the reality show? Exec producer Dante Di Loreto says they are devoted to making this show authentic to Glee, and creator Ryan Murphy is a producer. Stars of the show will also make crossover appearances — we got a peek at Chord Overstreet (Sam) from some footage, and Ulrich mentioned that Darren Criss also attended an audition.
Of more than 40,000 submissions, the show narrowed it down to 85 contestants to find the winner, who will get a seven-episode run in season three. Could the winner be more than a guest? Maybe: Di Loreto noted that Heather Morrison, Harry Shum Jr., and Naya Rivera all started as guest stars who grew into regulars.
The showrunners were very passionate about the audition process, noting that while they were looking for contestants who could conceivably play a high school student, there was so much diversity welcomed "because the TV series Glee inspires people to think they have a place in this show," said Davies. Ulrich said that Criss remarked at an audition, "Isn't it amazing to have a show where that's a wonderful thing, and people can be different?"
Keep reading Buzz for more TV news from the Winter TCA!