Glee Recap "Asian F"
Glee-ful Highlights From Episode "Asian F"
This week's episode of Glee gets the most out of the West Side Story auditions, and I have to admit that the play plot line is definitely making for intriguing complications. I enjoyed seeing Rachel and Mercedes compete outside of the practice room, as well as the way Mike Chang is allowed to shine through his bid for a part. Though the other competition going on – the race for class president — is a little less compelling, it still creates developments for the kids.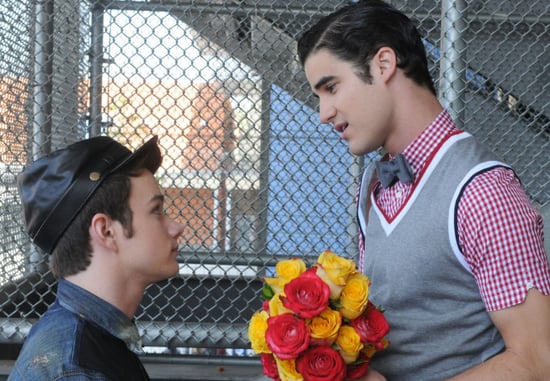 I actually liked this episode and the performances more than the previous two episodes, and to see why, just keep reading.
Mercedes's new boyfriend pushes her ambitions, and he tells her she's better than Rachel and should be the one playing Maria. I loved the connection the show made from referencing Effie White in Dreamgirls to cutting to Mercedes singing a Jennifer Hudson song ("Spotlight") for her audition. Her strong performance immediately makes Rachel nervous, which she's right to be, because the directors consider her Rachel's only competition. To decide who gets the part, they stage a "Maria-off," pitting the two divas against each other.
Brittany and Kurt go head to head in the race for class president, with Brittany taking it more seriously than Kurt gives her credit for. She wants to dance her way into the hearts of her people — which includes an energetic performance of Beyoncé's "Run the World (Girls)". Looks like they won't be the only ones in the race, though; Rachel throws herself in when she assumes that Mercedes has won the role of Maria, but Kurt angrily confronts her about being a bad friend by running against him.
Mike Chang's dad is concerned about his son's "flailing" grades ("An A minus is an Asian F") and he blames glee club and Tina. Mike's disheartened at his father's dismissal of his desire to dance, but in a sweet moment between him and Tina, she boosts his confidence about what an amazing dancer he is. It drives him to try out for the part of Riff (AKA the leader of the Jets) in the play — a singing part. His practice shows, and I thought his voice sounded great, and I loved seeing more insight into Mike and his pressure-filled home life. Later, when his mother comes to see him at school, she surprises him by saying that she wants Mike to pursue his dreams.
Mike Chang's parents aren't the only family we meet this week; Emma's mom and pop show up after Will broaches the subject of meeting them. After finding Emma's bridal magazine stash, he confirms that he's also thinking about marriage (did he really have to make mention of his porn collection though? Ew). Mr. and Mrs. Pillsbury are quite passionate about having red hair — they're "Ginger Supremacist," which apparently had something to do with Emma's OCD. Still, Will assures Emma that he'll try to fix her (with Coldplay's words, that is).
When Mercedes isn't giving her all in booty camp, Schue calls her on it, and she pushes back, saying that he's always been hard on her and accuses him of making Rachel his favorite. As she stalks off, Mr. Schue threatens her with kicking her out of the glee club, and it extends this episode's Dreamgirls theme when the gang sings, "It's All Over."
The casting for the play is finally announced: the directors double cast Maria so both girls can play the lead, but Mercedes turns down the opportunity because she hasn't won it completely. Other people are more thrilled: Mike gets the part of Riff, Santana gets Anita, and Blaine wins the lead of Tony — and Kurt doesn't even seem jealous. It's a new chapter for Mercedes though, who leaves the glee club and joins Shelby's rival girl group.
Did you agree with the casting of the play, or do you wish the directors would have just cast Mercedes? And how long do you think she'll participate in Shelby's other group before coming back to New Directions? Weigh in below!
Photo courtesy of Fox