Glee Recap "Big Brother"
Glee-ful Highlights From Episode "Big Brother"
Glee is back after its break and the cliff-hanger of Quinn's accident, and we see what happens with her and whether Rachel and Finn went through with their wedding. We also get to meet Blaine's impossibly good-looking brother Cooper (guest star Matt Bomer), and though everyone else seems to be entranced with him, his visit makes Blaine confront their relationship issues.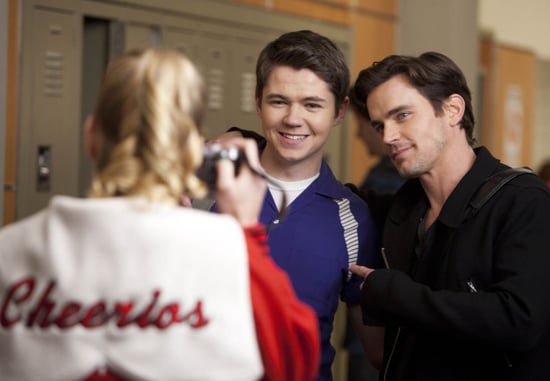 We've been waiting a while for the show to come back, and aside from learning about Quinn's state, not much happens. It also kind of feels like an excuse to showcase Matt Bomer's singing and dancing abilities . . . which I actually have no problem with. Let's break down his performances and the other highlights after the jump.
We find out immediately that Quinn survived her crash, but she's in a wheelchair. It could be temporary; Quinn is optimistic about her recovery, believing the possibility that she'll have a full recovery with physical therapy. She even sings "I'm Still Standing" and promises the glee club that she'll be out of the chair in time to dance on stage for Nationals.
Obviously, Artie is the best person to help Quinn, and though she has a positive attitude, Artie recognizes it as denial. He talks her out of going to an amusement park for senior ditch day to hit a skate park. Artie tries to get Quinn to accept the fact that she may be in her wheelchair for a long time, but Quinn isn't ready to face the idea. Permanent condition or not, I like the interaction between Artie and Quinn, and with the time they'll be spending together, I wonder if there will be a romantic vibe between them.
Principal Figgins makes Roz the new co-coach of the Cheerios, since Sue's pregnancy has cut in to her work obligations. She cooks up a scheme to get Figgins to let her coach alone, volunteering to take over Booty Camp with the intention of getting the glee club a win. She's typical drill sergeant Sue, until she learns that there are complications with the baby girl she is carrying. When Becky drops by to ask about her baby and offer some advice to be nicer, Sue softens up in connection to her impending motherhood. Still, like Roz, I'm still having a hard time wrapping my head around the fact that Sue might be a mom sometime soon.
Blaine's brother Cooper (the super dreamy Matt Bomer) comes to visit, and the credit report commercial star wows everyone from Kurt to Sue (their comments include "You sir, are a Disney prince" and "Your brother's the best looking man in North America"). At first, it seems like the two have grown up with some healthy competition between them, even showing off one of their patented and highly coordinated Duran Duran duets. However, it becomes clear that Cooper's bloated ego and criticism have driven a wedge between the brothers.
After Cooper guest teaches a master acting class full of bad advice (don't go to college; ignore your scene partner), Blaine can't keep quiet anymore. He lets his brother know how much his nitpicking has affected him, and refuses to go to senior ditch day (then lets it all out in his rendition of "Fighter"). Then, when Cooper gets an audition, it seems like he's going to leave town with a rift still between them. Luckily, the guys realize the cathartic properties of the ultra-popular song "Somebody I Used to Know," and by the time they're done singing the tune, they come to an understanding and all's well. Funny, I always thought that song was about a breakup between lovers, but I guess it was about estranged brothers all along.
Rachel and Finn didn't get to go through with their wedding in the aftermath of Quinn's accident, but their future is still very much on their minds. Rachel has tunnel vision for New York City, but Finn is starting to question whether there's really a place for him there. When Puck tempts him with the idea of moving to Southern California to dominate the vast pool market, Finn brings up the idea. Rachel doesn't consider it for one second, insisting that New York is the only place for her to grow her career. Normally, I might say something about Rachel being selfish, but I say she should be selfish; she's a senior in high school with her whole life ahead of her. As cute as these two are, it probably is a good idea for them to give up on the idea of teen marriage, and it seems like the tiff they have at the end of the episode may lead to exactly that.
What did you think of Glee's return episode? Were you as awestruck by Matt Bomer as the glee club (and me) was?