Glee Recap of Cory Monteith Tribute
The Most Heartbreaking Moments of Glee's Tribute to Cory Monteith
Glee's tribute to late cast member Cory Monteith aired this week, inspiring both heartfelt tears and wonderful memories of the gone-but-never-forgotten Finn Hudson. "The Quarterback" doesn't explain how Finn dies, but as Kurt notes, "Everyone wants to talk about how he died, but who cares?" Instead, we pick up three weeks after his funeral as the old gang returns to Lima to pay tribute to their former glee club leader. All the current cast members are present, but I appreciate that the episode really focuses on the characters that grew up on the show with Finn, like Kurt, Mercedes, Santana, Puck, and, of course, Rachel.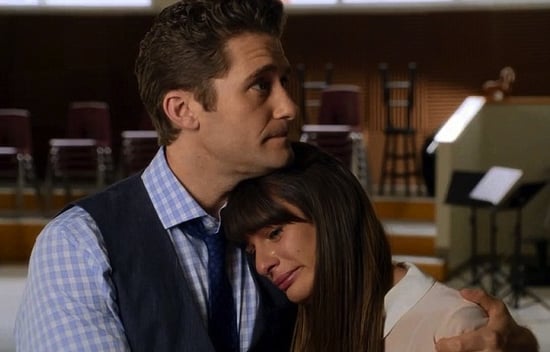 We've seen characters die on television before, but this is a very special and raw episode, because not only are the characters mourning their peer, the actors are really coping with the death of their friend. Finn's presence is everywhere, from his letterman jacket to his memorial in McKinley High's hallway to all the songs dedicated to his memory. It made me remember the good times, the bad times, and everything in between, and though it did make me cry — a lot — I think "The Quarterback" provides a great deal of closure on Finn's, and Monteith's, passing. Let's take a minute to talk about the most heartbreaking moments of an intensely emotional episode after the jump.
The glee club (sans Rachel) opens from the stage, singing Rent's seminal tune, "Seasons of Love." The choice of song sets the tone that this tribute isn't about mourning, it's about love. Of course there are tears (mine started right there), but "The Quarterback" is a celebration of Finn's life. Beginning a tribute episode like this requires a lot of sensitivity, and I think Glee handles it beautifully, slowly panning from the cast up to Finn's picture on the football field.
The scene with Finn's family is a rough one and possibly the most heart-wrenching of the whole episode. While trying to pack up Finn's room, Burt talks about how he should have hugged the kid more. Kurt tries his letterman jacket on and remembers how when Finn used to wear it, "it was like Superman had arrived." But the hardest part to watch is when Finn's mom breaks down, sobbing, "You have to keep on being a parent even though you don't have a child anymore."
Santana comes in from New York for the tribute, and she is not taking Finn's death well. Her grief manifests in anger, specifically directed at Sue. Hateful words turn to violence as Santana ends up shoving Sue into the wall, taken aback at her own snap reaction. In a weird way, they help each other through the pain, as it's Santana that Sue opens up to later, admitting she thought Finn would end up teaching beside her for years to come: "I thought I had all the time in the world to rail against him and his dopey little glee club." More tears.
Puck is also feeling pretty angry, but instead of pushing people, he's pulling memorial trees out of the ground. Unfamiliar with how to process the grief, Puck starts acting out, but is quickly wrangled in by Coach Beiste. They agree to retire Finn's old jersey number, and after singing a really emotional rendition of Bruce Springsteen's "No Surrender," Puck reveals that he's joining the Navy.
Mr. Schue has always been comfortable taking care of everyone else, and Finn's death is so exception. Emma expresses concern that he hasn't cried yet (right after giving Tina a pamphlet titled, "Wait, Am I Callous?"), but he insists he's fine. He even gives Puck a talking-to for stealing Finn's letterman jacket, but it turns out Mr. Schue is the one who snags it. There's something particularly heartbreaking about watching him cry into his old friend's jacket.
Rachel is absent for most of the episode, but she shows up toward the end to sing one more time in the glee club classroom. Her solo performance of "Make You Feel My Love" is so earnest, it's impossible not to lose yourself in her genuine grief. "I can still see his face and I can hear his voice so clearly," she admits to Mr. Schue. "He was my person." I can only hope for Rachel's sake that she can hold onto those things. Glee will never be the same without Finn, but as Rachel's memorial plaque for Finn says: the show must go on, all over the place, or something.
What did you think of "The Quarterback"?