Glee Recap "Dance With Somebody"
Glee-ful Highlights From Episode "Dance With Somebody"
This week's Glee kicks off with a goose-bump-inducing rendition of Whitney Houston's "How Will I Know" by Rachel, Mercedes, Santana, and Kurt, and it's just the beginning of an episode full of some of my favorite performances of this season. The kids are still grieving Houston's death, and Emma points out that it's partially due to the fact that they're having a rough time dealing with the impending transition of graduation. Schue suggests a Whitney-themed assignment, and we all benefit, getting some sentimental but hugely entertaining numbers.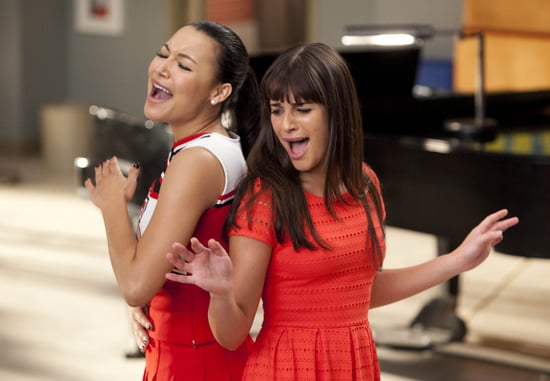 A couple of relationships are tested, but I'm most pleasantly surprised by the blossoming of a new romance that seems to come out of nowhere. Let's talk about those moments and more after the jump.
Kurt makes a new friend, Chandler, who shares his path to New York and passion for Whitney. They strike up a text flirtation, and when Rachel confronts him about the messages, Kurt admits that things haven't been that spicy between him and Blaine lately. Blaine sees the texts and accuses Kurt of cheating, and Kurt tries to split hairs, claiming that the texts are innocent, but it's obvious that Kurt's emotionally involved. This launches a fun, fierce, and hilarious number by Blaine of "It's Not Right, but It's OK." Was anyone else cracking up during this scene? First, Artie and the other members glare at Kurt accusingly, even singing along, and then we see Blaine suited up in black. Santana puts it best: "Snap."
Two of the best numbers aren't related to any major plot developments, they're just pure fun. I loved Brittany's "I Wanna Dance With Somebody," for Santana and Brittany dancing together and wearing the Whitney garb from the original music video, while the pairing of Rachel and Santana's "So Emotional" blew me away. When Rachel has a similar realization, she reaches out to Santana, expressing that she's regretful they were never friends before, but ready to embrace their chance at friendship.
New favorite couple: Quinn and Joe! Brittany's shout out to Quinn about still being able to dance in her dreams bums Quinn out, so Joe volunteers to accompany her to physical therapy. And with a flick of those dreads and a dreamy gaze during their duet to "Savin' All My Love," Joe and Quinn have a little love connection going on. I'll admit it — I'm diggin' it. Joe is the last person I would have predicted for Quinn, but this new development is cute (and surprisingly hot — who knew physical therapy could be so sexy?). At first Quinn thinks that Joe isn't into her because he doesn't kiss her when they're having a moment in therapy, but when Joe consults Sam about Quinn, we learn that he only pulled away because his physical urges challenge his religious beliefs. (Oh, and best line goes to Sam: "You mean like in-your-pants feelings?") I'm actually glad we don't see these two kiss yet. Why rush it?
Will wants to move up his and Emma's wedding, and he has some pretty unreasonable demands, like trying to throw the wedding in a month and rapping at the reception. He finds her limit when he suggests a campground event, and when she asks for a November wedding, we find out the real reason Will wants to get hitched right away: because his glee kids are graduating and he wants them at the wedding. He's sad to lose the kids that changed his life, but he gets a reassurance that he changed their lives too, in the form of the episode's final number. Though there's no practice, everyone still meets up to sing "Your Love Is My Love." Mr. Schue's moved, I'm moved, and it made me realize that no matter the ups and downs of this season, I've really enjoyed watching the development of these characters.
Though Kurt and Blaine kiss and make up and the last song is upbeat, this episode is tinged with bittersweetness. It's not even over the sad passing of Whitney, which is really just brought up in the beginning, and then takes a backseat to each character's personal drama. What did you think of the episode? Did you like the Whitney songs, and what did you think of the sudden Quinn/Joe romance?