Glee Recap of "Diva"
Glee-ful Highlights From Episode "Diva"
McKinley High gets a big dose of attitude on this week's episode of Glee. With Finn wondering what his place will be once Mr. Schue returns to school, Emma inspires him to give the glee club a challenge to increase their competitive nature. She inspires him to do a little more than that, but we'll get to that later. While Finn is igniting a firestorm of sass amongst the students, Kurt is busy trying to put out Rachel's big, arrogant flame of an ego at NYADA. After winning the showcase, her confidence has gotten out of control, and he gives her the kick in the dance-pants she desperately needs.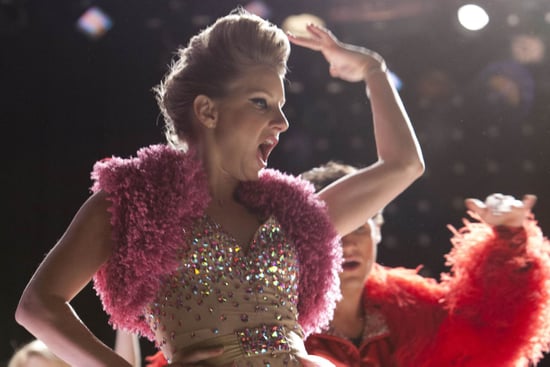 Meanwhile, Santana makes a big move, Blaine's feeling under the weather, and Tina's feeling Blaine. Yes, still. Let's talk about this all while we listen to a Spotify playlist of all the tracks showcased in "Diva," shall we?
Without Mr. Schue for either of them to lean on, Finn and Emma are becoming friends and confidants, but I didn't realize how close they were until this week. Come to think of it, they probably didn't either. Having OCD Emma plan the

wedding

sounds like a nightmare for all involved, but Finn calms her down mid-panic attack by planting one right on her. I feel like we've seen it all on Glee, but I totally lost it.
It's time for Midnight Madness at NYADA! Midnight Madness is, as Brody puts it, NYADA's version of fight club. Kurt challenges Rachel to a sing-off and — surprise! — he wins the battle. Of course, they kiss, make up, and sign up to audition for the revival of Funny Girl.
Brittany + Sam = Bram. It had to happen, right?
Tina's feelings for Blaine have been slowly gaining momentum over the past few weeks, and what I assumed would be a silly one-off plot line progresses to a really sad place this week. Tina offers to take care of Blaine while he's sick, and in turn he compiles a sweet, old-school diva playlist for her. She ends up confessing her love to Blaine, who, not minutes before, calls himself a "gold-star gay." Thank goodness the cold medicine makes him pass out before he hears her profession. It all sounds innocent enough, but you know what's not innocent? Unbuttoning a passed-out man's shirt, then straddling him and rubbing VapoRub on him. I know it's supposed to be a tender moment, but I'm pretty sure there are laws against that.
It's goodbye, Lima, and hello, New York City, for Santana. If Kurt thinks Rachel is insufferable, wait until he lives with Santana for a few weeks. I'm actually really glad she moves out of her comfort zone. I was sure she'd take the job Sue offers her coaching the Cheerios — however unbelievable that offer is — but Santana really shows spunk by packing up a suitcase and showing up on Kurt and Rachel's doorstep. Hope she knows there will be a naked Adonis of a man walking around at breakfast.
What's your take on "Diva"? Did you enjoy Blaine's embracing his inner Freddie Mercury, leather studs and all?