Glee Recap of Episode "Guilty Pleasures"
Glee-ful Highlights From Episode: "Guilty Pleasures"
The kids of Glee tell us what they want (what they really, really want) on this week's episode, "Guilty Pleasures." When Mr. Schue calls in sick (get it together, man), Blaine and Sam take it upon themselves to present the glee club with a lesson in revealing guilty pleasures. There are tons of juicy exposures, including one that provided me with a serious Zoolander flashback. Over on the East Coast, Rachel is coping with the abrupt end of her relationship with Brody, and Kurt has a new friend: a boyfriend arm pillow named Bruce. Yeah, that is as weird as it sounds.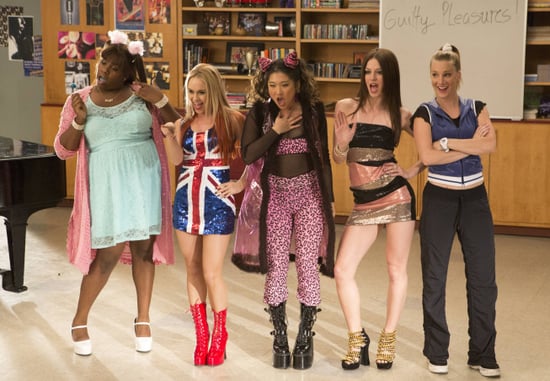 It struck me this week that the gap between New York and McKinley High has never felt so wide. I've gotten to the point where I'm wondering if the New York crew should have their own spinoff. Is anyone else feeling that way? Let's discuss the details of this week's episode and listen to a Spotify playlist of the music from the episode when you read more.
As much as I enjoy the idea of a guilty-pleasure show, I need to address something: these high schoolers are too young to have the Spice Girls and the '80s TV show Small Wonder be their guilty pleasures. Isn't someone like Miley Cyrus the guilty pleasure of their generation? The only one whose guilty pleasure I actually buy is Jake, who is shamed out of performing his proposed Chris Brown song — a decision I actually agree with. I do think they get into interesting territory with the debate about separating the art from the artist, but ultimately Jake goes with a Bobby Brown song. He's quickly put in his place by Artie, who lets him know Bobby Brown is probably the one who got Whitney Houston addicted to drugs. Thank you, Artie, this week's voice of reason.
Lord Tubbington's guilty pleasure is Scientology — ha!
Because Sam can do no wrong in my book, I'm accepting his confession that he likes Barry Manilow. His performance of "Copacabana" actually inspires all the guys to admit that they too are "Fanilows." Here's what else I like about Sam this week: his macaroni art project of the men from Duck Dynasty, his participation in the cover of Wham!'s "Wake Me Up Before You Go-Go," and the fact that he realizes Blaine has feelings for him without having to force a confession out of him. I especially like that he says yes to one of the breath mints in Blaine's pocket.
Rachel's all mopey because Brody up and left her after his encounter with Finn. Eventually Santana comes out and tells her the truth about Brody. Cue the ugly confrontation with Brody and what looks like might actually be the end of their relationship. I'm glad she finally recognizes the relationship for what it is/was: a rebound from her true love, Finn. Hopefully this will get her back on track and focused on school, though I'd settle for an occasional encore of her Radiohead duet with Brody.
Call me sentimental, but I was really happy at the end when Rachel and Kurt finally grant Santana admission to their little roomie club. Not only does Santana bond with Rachel over finding Kurt with a boyfriend arm, but she then also bonds with Kurt when he buys her a boyfriend arm of her own. It's getting very Three's Company in here, and I like it.
What do you think of this week's episode? Do you miss the presence of any type of adult supervision? Are you looking up "boyfriend arm pillow" on eBay right now?