Glee Recap of Episode "Naked"
Glee-ful Highlights From Episode "Naked"
With a title like "Naked," I was expecting this week's Glee to be a lot more racy. While we do get to see some spectacular pecs (lookin' at you, Sam), the episode's theme also refers to emotional vulnerability. Marley loves Jake but is afraid to tell him, Artie is ashamed of his body, and while Sam isn't ashamed of his body at all, he is terrified that it's all he's got. Yes, it's a very special episode of Glee, and one of the cheesiest I've seen in a long time.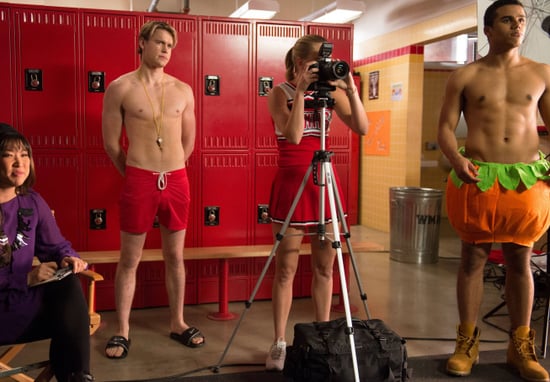 The Warblers have been disqualified from sectionals ('roid rage), and New Directions is clear to take their place. To help raise money, Tina suggests a Men of McKinley calendar, prompting the boys to try on a variety of sexy, seasonal costumes. Meanwhile, Rachel's having a crisis of conscience when a peer asks her to go topless for a student film. Let's break down the highlights and listen to a playlist of tracks from the episode after the jump.
The most exciting part of this episode has to be the return of Fondue For Two and Lord Tubbington! Brittany invites Marley onto the show, but of course Marley has no idea what she's getting into. Brittany tells it like it is, and calls her out on being in love with Jake. Why doesn't she just tell him? While Marley wavers, you can just tell Lord Tubbington is silently judging her from the bed.
I would be remiss not to mention the abundance of shirtlessness in this episode. Tina's clearly still got a thing for Blaine, as she suggests he be Mr. December, aka "Sexy Claus." I'm not complaining; Jake is a sexy pumpkin, Sam is a sexy lifeguard, Ryder is sexy Uncle Sam, and Joe is a sexy farmer. Inspired work, New Directions.
Normally I'm not a fan of people confronting another version of themselves (so confusing), but I really loved the portion of Rachel's story where she talks to high-school Rachel. It reminded me how much she's evolved since coming to New York. I like her look, but some are less thrilled, like Kurt, who nicknames her "slutty Barbie." Even better is the confrontation that occurs when Kurt calls in the B-squad, Santana and Quinn, to talk her out of the topless scene. It warms my heart a little to see these former frenemies genuinely rally around her.
Brody comes to the kitchen table naked. Enough said.
"Torn" is great, but my favorite number this week is, hands down, the "Centerfold"/"Hot in Herre" mash-up. Not only is it brilliant, but it also has some really creative gym-related choreography. Leave it to Glee to make push-ups rhythmic.
The real stars of this episode are the bro talks. After a long, sweaty workout, Jake turns to Ryder for romantic advice about Marley. Nothing like asking the guy who used to have a crush on your girlfriend to give you advice about telling that girl you're in love with her, eh? Being a good friend, Ryder tells him Marley really just wants Jake to get "emotionally naked." (Yeah, he says that.) Artie talks to Finn about his body insecurity, a chat which concludes with the very after-school-special line, "It's totally cool that there's a part of yourself that you want to keep private." Finally, Blaine counsels Sam on the ways that he's special, aside from his totally rockin' bod. And lest we forget, the term "bro-ga" is coined.
What did you think of the episode? Were you at least a little bit curious about Sue's centerfold? Will Santana move to New York?