Glee Recap Episode "Swan Song"
Glee-ful Highlights From Episode "Swan Song"
Oh, holy night, indeed! This week's Glee brings a host of developments: Rachel gives the performance that will define her career at NYADA, Kurt gets a chance to fight for his place alongside her at the school of his dreams, and the glee club hits a rough patch in the wake of Marley's meltdown on stage at Sectionals. Big bad Sue is back in her original form, taking over the club's room and forcing all the glee clubbers to find new extracurricular activities. I haven't even gotten into the budding blond romance among our McKinley High students! (I'll give you a hint: it involves a Cheerio and a gentleman who keeps a ChapStick caddy in his locker.)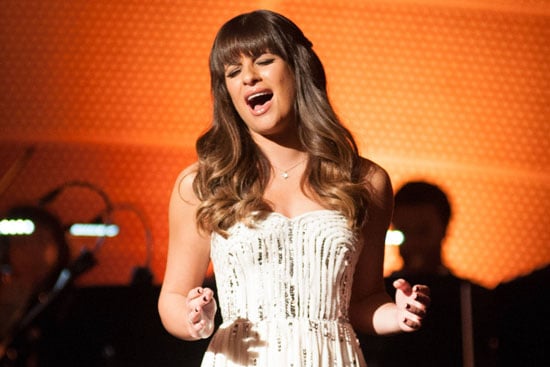 Though "Swan Song" is a little light on tracks, the ones it does feature are inspired choices. We even get a hint at the upcoming holiday episode with a spirited rendition of "O Holy Night" from Rachel. So joyous are this week's moments, so goose-bump-inducing the episode's tunes, I may have actually shed a tear. Let's go over the highlights and check out a playlist with all the songs from the episode (minus "Something Stupid" by Frank & Nancy Sinatra, as it's not available on Spotify) after the jump.
I cheered out loud when Santana calls Kitty out in the choir room for giving Marley an eating disorder. She may not be totally eloquent about it, but she gets the point across and somebody needs to stand up to that toxic kid. I only wish they'd followed up on the whole story line more. Considering how public Marley's collapse is, I thought her situation would be addressed a little more extensively. Maybe this isn't the end of it?
Rachel gets invited to the prestigious Winter Showcase, put on by Carmen Tibideaux. It's amazing enough to get handed the golden envelope, but she goes up in that perfect sound chamber, in front of all those people, and nails her Barbra Streisand number. It doesn't end there, either: she's so good that they want an encore! As much as Rachel bugs me sometimes, the girl can sing. Watching her belt out her second number, it struck me how much Rachel Berry has grown from when we first met her as a quirky, ambitious sophomore stalking Finn Hudson. It was then that I welled up, just a little bit.
Having to follow Rachel's epic performances would be a task for anyone, let alone poor Kurt who has come as an observer and has no idea he is going to be challenged to sing for a spot at NYADA. I'm so glad that he takes his opportunity, especially after that particularly brutal confrontation with Carmen about his application. For someone "devoid of complexity or depth," he sure hits some high notes with that incredibly difficult song. Looks like he'll be getting some class time with the wicked Cassandra as well!
With those soft, horizontal lips and unexpectedly killer impressions, Sam is my MVP of the season, and apparently he's Brittany's too. I adore everything about their love story this episode. The literal Cheerio trail is hilarious, and probably very time-consuming, and their duet is really cute. Mostly I love that he seems to bring something wonderful out of her. At the same time, she appears to bring out his very best Forrest Gump impressions.
Finn has been hitting roadblocks at every turn since he graduated and accepts the responsibility of the glee club. This time, Sue — still on the warpath from when he accidentally insulted her handicapped baby — seizes an opportunity to take away the club's room. No one is happy about this, except the unappreciated piano man. In a way, I kind of enjoyed seeing what second-string activities the kids turn to (turns out there's a McKinley High Interfaith Paintball League) after glee goes under. Of course, I enjoyed their uniting at the end of the episode more, especially because "Don't Dream It's Over" is pitch-perfect for that moment. The predicament does beg the question: what's next for the glee club?
What's your take on the episode? How excited are you for next week's holiday-themed episode, "Glee, Actually"?