Glee Recap of Episode "Sweet Dreams"
Glee-ful Highlights From Episode "Sweet Dreams"
This week's Glee goes where no glee clubber has gone before: college. I suppose a couple of the graduates are technically off getting degrees, but when Finn decides to actually go to school (halfway through Spring semester), we finally get to see the inside of a dorm room. And guess who's in it? Puck! Over at McKinley High, Will is super moody, and frankly, everyone is acting weird. Sam is pretending to have a twin brother, Tina is suddenly really into steampunk, and with Sue out of the picture, Roz (NeNe Leakes) is taking over as head coach of the Cheerios. Meanwhile, in the Big Apple, Rachel gets reunited with an old family member just in time for her Funny Girl audition.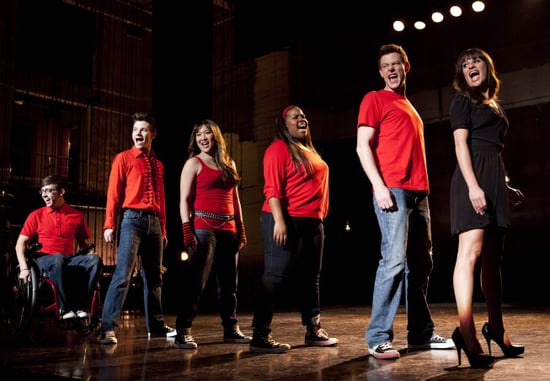 "Sweet Dreams" is one of the first episodes that I felt moved by in a long time, and of all people, it's Rachel who does the moving. I'll get to that in a bit, but first, check out a Spotify playlist of all the songs in the episode (including Marley's "original" piece) and the episode's highlights after the jump.
We all know Rachel's icon is Barbra Streisand, but I had no idea her affection for the infamous star extended so far that she would have a shrine of framed photos of Streisand's past lovers in her apartment. As weirded out as I was by that, I was really rooting for her at the Funny Girl audition. Let's be real: we all knew she would knock it out of the park. However, the fact that she imagines her friends up there on backup both surprised and delighted me. "Don't Stop Believin'" definitely made me long for the Glee of yesteryear.
Idina Menzel returns as Rachel's estranged mom, Shelby, this week, and it sounds like everything is hunky-dory between them. Apparently baby Beth is doing well — did you also completely forget that baby existed? — and Shelby convinces Rachel to go outside the box and not stick with her impression of Barbra. It pays off! Try as I might, I can't picture a better Funny Girl than Rachel, and I'm really glad she's able to get a pep talk before her big chance.
Though he previously found the prospect of going to college scarier than getting shot, Finn decides to go to school to gain his teaching credential. Just when he thinks he's on the path to studiousness, those darn kids start doing the "Harlem Shake" everywhere. Puck is his new roommate (obviously), and I have to say, he's a pretty good influence. I'm not just talking about his getting Finn to study, but also getting Finn to channel his inner party animal. I totally love carefree Finn. Sure, he should go to classes and all that, but I'm proud he at least gets to wrangle a couple bikini tops first.
It made me pretty happy to see Finn and Mr. Schue are bros again. Seeing as they're "equal partners" now, does Finn finally get to call him Will?
Sue is out; Roz is in. I'm grateful for the change. Truth be told, Sue's schtick was getting a little old for me. There's only so many ways she can insult Mr. Schue. Roz is new, fresh, and hungry to get the inquisition started. Will she figure out and expose what really happened with the gunshots?
How is everyone feeling about Marley's original songs? Just about as lukewarm as I am? Fun trivia for the day: "You Have More Friends Than You Know" is actually by Avenue Q creator Jeff Marx. However, the final performance, "Outcasts," is a Glee original.
What did you think of this week's episode?