Glee Recap "Extraordinary Merry Christmas"
Glee-ful Highlights From Episode "Extraordinary Merry Christmas"
I must be in the holiday spirit, because Glee made my heart grow three times this week. Early in the episode, the gang mentions how dreary last year's holidays were, what with Kurt being at another school and Sue destroying their tree and gifts, so they want to have a happier holidays. The show itself seems to take that sentiment to heart, and there's pretty much nothing but music, joy, and laughter in this episode.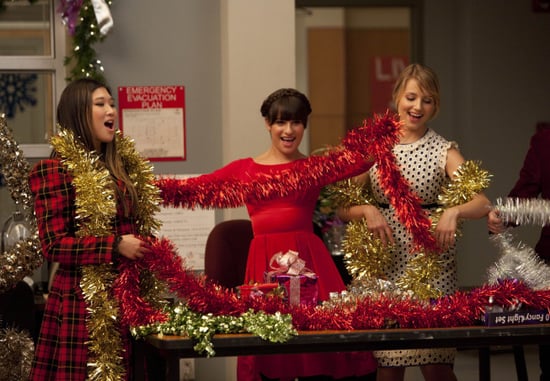 If you're a holiday lover, I'm willing to bet this is one of your favorite episodes of all time — it definitely is for me, because watching the glee club perform old Christmas standards and fun original songs made me more than merry. I didn't mind that there's very little story development this week — just fun, and I'm already planning on watching the hilarious and wonderful Christmas special segment again. To break down all the festivities, just keep reading.
Mr. Schue is all tinseled up and volunteers the glee club to perform in a TV holiday special, and he nominates Artie to direct it (I LOLed when Artie expresses his hesitation over selling out for TV). Artie might be high on baby Jesus, because his ideas include involving Chewbacca and shooting the special in black and white. He's also an oppressive director for his stars, dismissing Rachel's Joni Mitchell song because all he wants to hear is happy music for the holidays. Sam, who had just done one of the sweetest things in the episode by inviting Rory to spend Christmas with his family, argues that sadness is part of the season too, and ditches rehearsal.
Sue is actually trying to do something good for once, and she tries to recruit Kurt, Blaine, and Artie to sing at a homeless shelter (I loved Blaine's reaction to Sue calling him a young Burt Reynolds. Even Sue thinks Blaine is dreamy!). She's feeling tender because it's her first Christmas since her sister passed. Unfortunately, the kids are so excited for their special (to be fair, they had just performed the original number "Extraordinary Merry Christmas," which is now maybe my favorite new Christmas song) that they turn down Sue and refuse to perform for the homeless. When Sue looks at you like you're a bad person, you know there's something off.
It turns out that Artie's ideas are actually kinda brilliant, and when the black and white Christmas special begins, it's pretty much the best thing ever. It opens with "best friends and holiday roommates" Blaine and Kurt singing "Let It Snow," and I don't know what's better: their '60s suits, dance moves, or the sheer delight of watching the couple sing the duet. Rachel and

Mercedes

"stop by" in their retro dresses to sing "My Favorite Things," and I felt like I was watching an old, classic movie, and I loved every minute of it.
The fun continues with other songs in the special like "Santa Claus Is Coming to Town" and "Christmas Wrapping," but it's Rory's (I'm sorry, I mean, "Itchy the Elf") touching Christmas poem that reminds everyone that the holidays are about helping. Everyone heads to the homeless shelter to perform, and Sue looks touched, with no trace of the Grinch she was last year at this time.
How adorable is the burgeoning friendship between Sam and Rory? After Sam offers to be Rory's Christmas sponsor, Rory asks that he help him out when Valentine's Day comes around too. I'm all for this pairing!
When the episode begins, Rachel thinks the holidays are all about gifts, and she brattily demands specific gifts from Finn. The only thing that made me smile is when she quotes A Charlie Brown Christmas: "All I want is what's coming to me. All I want is my fair share." Thankfully, Rachel changes her tune after the heartwarming time at the shelter, and decides she's happy with the pig Finn bought for her to sponsor. Finn goes for another sweet gesture and names a star after himself, so Rachel can always look up and see that he's looking down at her. Rachel also finagles those diamond earrings she wanted, but she feels guilty and decides to give back, returning the jewelry and her gift to Finn and donating the money.
Did you enjoy this week's episode as much as I did? Did you laugh at the delightful Christmas special? And finally, which performance is your favorite?
Photo courtesy of Fox