Glee Recap, Feud
Glee-ful Highlights From Episode "Feud"
Who's ready to turn on the black light, head to an all-cougar gigolo party, and talk about this week's Glee? The episode picks up with Finn and Mr. Schue in the middle of a war, hot on the heels of Finn's confession that he'd kissed Ms. Pillsbury. Their little spat serves a purpose, as it's inspiration for the week's theme: feuds. Sure, this show has seen its fair share of fights (see: any scene that Sue is in), but this episode really brings out the cattiness in even the boys. Added bonus: there is a Backstreet Boys/*NSYNC mashup. It had to happen.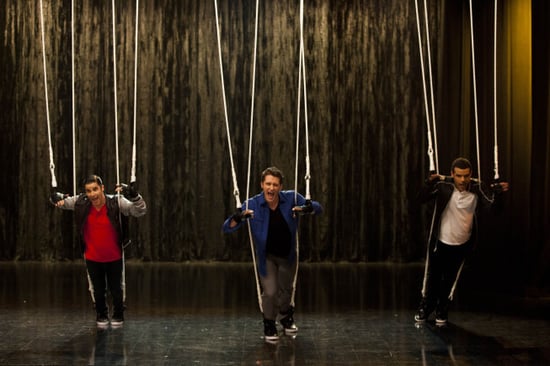 Meanwhile, I can't wait to get into Ryder's new online pen pal and why Santana continues to be my favorite character on the show. Don't tell Sam I said that. I'm getting into all the details, and sharing a Spotify playlist of all the songs from the episode when you read more.
I have to start with this because it's the most jazzed I've been about a story line in a while: Ryder has an Internet crush. She's a (supposedly) cute blond girl with the username "katie_xoxo" who is wise beyond her years. Ladies and gentlemen, I give you a Catfish, aka a person who tricks another person into thinking they're someone they're not, hiding under the cloak of the Internet. I suspected from the moment we see Ryder chatting that this would be the case, but after "she" mysteriously signs off at the end, I've got all the proof I need. The only question now is: who is it? Is it someone we know (Unique? Kitty? Jake?) or a dirty old man? I'm so excited to find out.
This show should just be called "Santana Knows Best," because she does. Rachel's pregnancy plot is swiftly disposed of in the beginning of the episode — are we just supposed to be satisfied with that, or what? — but Santana isn't convinced that all is well with Rachel. She knows something is off with Brody, so she takes action. First, she shows up at NYADA and confronts him with a Paula Abdul song. I love Kurt's reaction to this, even if it is his only scene this week. That tactic isn't met with a positive response (Kurt and Rachel ask her to move out and she subsequently steals their bedding), so she brings out the big guns. She uses her sleuthing skills to trick Brody into meeting her at a hotel, proving his gigolo-dom. She then lets Finn out of the bathroom. There goes the boom! Seriously, though, Finn punches him in the face. It's epic.
Finn has some real aggression to take out because Mr. Schue is not accepting his apology, and it's really bumming him out. Not even after a sweet "I Want It That Way"/"Bye Bye Bye" mashup (complete with puppet-like human strings) will Mr. Schue accept Finn's apology. Even Sam, eternal peacemaker, says, "The love on the stage is obvious. You two bros just need to hug it out." And yet Mr. Schue denies him. So harsh, bro.
OK, this needs to be addressed: Sue goes full Nicki Minaj (complete with wig and day-glo attire) and raps "Super Bass." Props to Jane Lynch for nailing all those lyrics, but other than that, it's kind of painful to watch Sue try to show off her moves next to the Cheerios. Am I the only one who was cringing?
Call me old-fashioned, but I'm still having a really hard time adjusting to the new kids. They sit down postfeuds and have this supercheesy talk about how the glee club is the only place where kids can be themselves, and it's up to them to keep that legacy alive. Marley even utters the phrase, "Friendships are tested like this all the time. And the ones that are real are the ones that pass the test." Gag. Only Unique keeps it real, challenging Kitty when she struts in and offers to help walk him home, recoiling with "Wait a minute, we're friends?" Apparently so, Unique.
Are you looking forward to seeing how Blaine takes down the Cheerios from the inside out? Were you also yelling at Marley for manipulating Jake into trusting her again? What's your take on "Feud"?