Glee Recap "The First Time"
Glee-ful Highlights From Episode "The First Time"
It's show time for New Directions on Glee this week, as the club prepares for opening night of its West Side Story production. Everyone's a little jittery, but Rachel and Blaine have more than just singing on the brain. After Artie tells them that they lack passion as Tony and Maria, both of the leads start to question whether it might be time to take their relationships to the next level.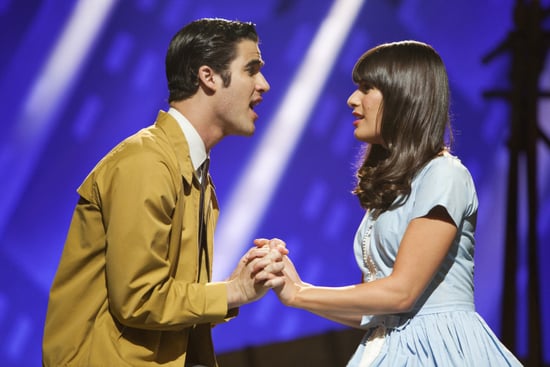 It's certainly not the first time the topic of virginity has come up on the show, but this time it's handled a little more delicately (and thankfully, there's no crooning of "Like a Virgin" from Mr. Schue.) It's an episode of milestones for many of the characters, and it's one of my favorites of the season so far. Call me crazy, but I think this show has outgrown Sue Sylvester. There's a lot to break down, so let's get to it after the jump.
Just days before opening night, Rachel and Blaine are perfecting their "Tonight." I love the way these two voices blend together; you can't blame Coach Beiste for dabbing tears from her eyes every time they sing the duet. Artie isn't quite as impressed, though, and urges Rachel and Blaine to draw on their sexual experiences to fuel their onstage chemistry. It feels a little out of character for Artie to get all high and mighty about a topic like sex (not to mention the fact that Rachel and Blaine's love lives are none of his business.) I'd expect something like that from Puck, but Artie is usually a bit more sensitive.
It turns out that Emma isn't the only sexually inexperienced teacher at McKinley; Coach Beiste is also still waiting for the right person to come along. Artie decides to urge her to get busy as well (I have to agree with Beiste when she tells Artie he's being inappropriate), but at least his heart's in the right place this time. I cheered for the coach when she finally gets asked out on a real date by her crush, the recruiter at Ohio State.
Speaking of the recruiter, Finn's all worked up about trying to impress him so that he can play football in college. He's happy to see that Rachel is supportive of his postgraduation plans and even more excited when she hints that she's ready to do the deed while his mom and Burt are out working on Burt's campaign. Their romantic evening is almost perfect — until Rachel screws it up by blurting out that she's trying to "get it over with" before opening night. Face, meet palm.
I didn't realize just how much I missed the Warblers until their performance of "Uptown Girl." They're not the same without Blaine though, especially with their creepy new lead singer, Sebastian. When Blaine pops back in his old school to invite his friends to his big night, Sebastian cuts right to the chase, telling Blaine that he's "sex on a stick" and putting the moves on him even after Blaine tells Sebastian about Kurt. I was expecting Kurt to have one of his super-dramatic moments, but he keeps it together — and even agrees to join Sebastian and Kurt for a night out at a gay bar. In the end, it's Blaine who gets overly dramatic when he tries to be "spontaneous" with Kurt after he's had too much to drink. I was proud of Kurt for standing up to Blaine and not cashing in his dream of losing his virginity to Taylor Lautner in a meadow for a backseat and a drunken former Warbler.
Mike Chang has essentially retreated into the background since his spotlight episode, but his relationship with his father is back this week and in a painful way. His dad confronts him at his locker at school (couldn't this conversation have waited until dinner time?) and demands that Mike drop out of the play. When Mike refuses, his father disowns him right there on the spot. On the bright side, his mother proudly shows up at the performance later on, which gives me hope that she can help Mr. Chang see the light.
On opening night, the New Directions give such a tour de force performance that even Mercedes is cheering in the crowd. Santana and Puck take center stage for a fun performance of "America" while Rachel and Blaine bring the tenderness with "One Hand, One Heart." It's what happens after the curtain closes, though, that's really big — both Rachel and Kurt decide to give their virginity to their boyfriends. It's a very sweet ending to a big episode, and I particularly loved that Finn's first time is much more meaningful than his "real" first time in the hotel room with Santana.
Are you worried about how Sebastian will affect Kurt and Blaine's relationship? Were you sad that Rory barely makes an appearance this week? Do you think Rachel and Finn will be able to stay together even though their lives are headed in different directions? I want to hear how you felt about the episode in comments!
Photo courtesy of Fox