Glee Recap of "Girls (And Boys) on Film"
Glee-ful Highlights From Episode "Girls (and Boys) on Film"
In the wake of Emma leaving Mr. Schue at the altar and Rachel's pregnancy test cliffhanger, this week's Glee has a lot to resolve. Thankfully for us, it does tie up the loose ends, and there's some good music, too. In an effort to cheer himself up, Mr. Schue assigns the kids the task of selecting songs famously associated with movies. The New York crew is snowed in, and nobody is as bummed out as Santana. Not only is she cooped up with Kurt and his rebound Brit, who are impersonating Downton Abbey, but Rachel is traipsing around being moody.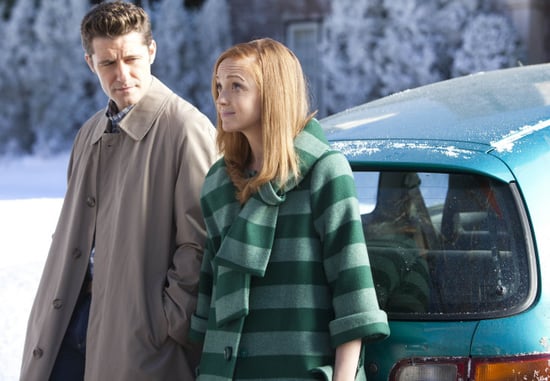 Could it be because she's got a bun in the oven? And will Mr. Schue give Emma a second chance? Does Finn come clean about kissing her, and does Jake find out Marley and Ryder kissed? Get the answers to these burning questions, plus a Spotify playlist of all the songs from "Girls (and Boys) on Film" when you read more.
Jilted groom that he is, it's only natural that Mr. Schue is having dreams (or are they nightmares?) about him and Emma performing "You're All the World to Me" from Royal

Wedding

. He chooses to numb his pain with movies, but Finn is determined to spring into action. I got a kick out of Artie and Finn pretending to be in the Ginger Club to get Emma's address, but I can't say the same for Mr. Schue's homage to Say Anything. Despite its cuteness, I couldn't get past the fact that Emma just happened to be lounging in an elaborate kiwi-colored nightgown.
Artie suggests a lady manhunt for Emma and Finn says, "Ain't nobody got time for that." Cue uproarious laughter from me.
Like a caged animal, Santana is out for blood in this episode. Too bad she's mostly confined to picking on her new roommates, who are not pleased to find she's settled in. Like her or not, Santana has a radar for sketchy people, and she sniffs Brody (aka "Lars and the Real Boy") out from the minute she sees his hairless chest. She thinks he's a drug dealer, but I'm sticking with my prostitute theory. The highlight for me isn't her rapier wit, it's the way she forces her friendly ear on Rachel. From the looks of that sobbing, I'm thinking our tiny dancer is, in fact, pregnant.
Of all the musical numbers in this week's episode, how could anyone not love the double-hitter of Tom Cruise action the boys provide? Sure they were on key and sounded great, but did you see those tighty-whities?
I'm actually surprised by the amount of secrets that come out during this episode. Marley chooses an inopportune time to tell Jake that she let Ryder kiss her — right after he pulls a Patrick Swayze and sings "Unchained Melody" to her while they mold pottery. Too bad all she pictures is Ryder! It's really awkward when they have nowhere to put their messy hands. Then Finn lets loose to Mr. Schue that he kissed Emma. For a second, I thought Mr. Schue would hug him and let him off the hook. Nope! He goes a more traditionally cold route.
What's your take on the episode?