Glee Recap of "Glee, Actually"
Glee-ful Highlights From Episode "Glee, Actually"
Call it throwback Thursday, because this week's very special holiday Glee episode gives us a blast from the past as Artie pulls an It's a Wonderful Life and dreams that he can walk. A couple of characters we haven't seen in a while show up, some bearing fake babies, and we see what a miserable place McKinley High is sans song and dance. Meanwhile, back in reality, Kurt's dad comes to New York for a quick visit and brings along a Blaine-sized surprise. Sam and Brittany believe the apocalypse is imminent and make some rash decisions — well, almost — and the Puckermans get some quality time together.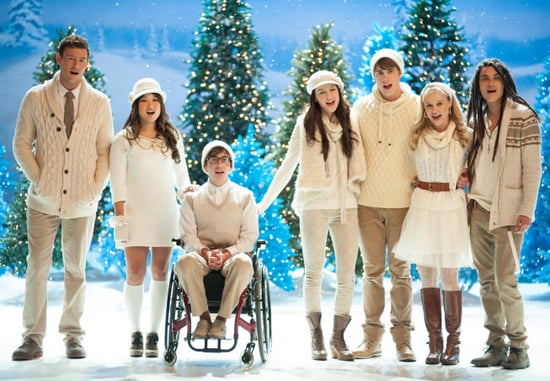 Ever since checking out all the behind-the-scenes pictures of "Glee, Actually," I've been really excited about this episode. Though the stories feel a little disjointed to me, it's undeniably festive. Get my take on all the highlights from the episode and a playlist of the holiday tunes after the jump.
Artie learns everything happens for a reason when his Christmas guardian angel (aka Rory) shows him what life would be like if he'd never been in the car accident that put him in his wheelchair. Tina still stutters and Rachel faints really easily, but my favorite part of this sequence has to be the reappearance of Will's first wife, Terri. In this alternate reality, Will is such a drunk he doesn't even notice she's been coddling a doll instead of a baby. Oh, Terri, how I've missed you.
Kurt's face when he opens the door and finds Burt behind a Douglas Fir is like the "priceless" part of a MasterCard commercial. Just when I think Burt can't get any better, he totally does when he gets Blaine to come to NYC and delve into his lower register for a Christmas duet with Kurt. I really hope the cancer's not going to take him out; I've already wasted enough tears on Burt when he went and had that heart attack a couple years ago.
I never thought I'd say this, but Sue makes a stupendously kind gesture this week. OK, so the story feels a little slapdash, but it's really cute seeing Marley and her mom come down to find a tree decorated with

Benetton

sweaters and hundred dollar bills. Side note: Sue's "I had nothing to do with the making of that film," quote regarding Marley & Me had me in stitches.
I'm in love with the Puckerman brothers, but I'm considerably less enthusiastic about their trip to Hollywood. I get that it's time for Puck to come back to Ohio, and I love me a solid rendition of "Hanukkah, O Hanukkah," but the number in the Paramount lot is a little overboard and out of place. I'm looking forward to having Puck around again — maybe he'll be able to give Finn a hand with the glee club. I'm sure Jake's mom (guest star Aisha Tyler) could give him a few pro tips for handling rowdy kids.
Last but not at all least, my new favorite couple, Sam and Brittany, become convinced the Mayan calendar predicting the end of the world is legitimate. Brittany gives out trips and cars Oprah-style, while Sam decides he wants to live out the rest of his days as happily as possible, and that means putting a ring on it. I was pretty sure Coach Beiste wouldn't legally marry the two, but it was fun while it lasted. I also get a kick out of her reasoning: "The last thing we need is another teen tragedy of getting married, popping out a couple kids before you're 20, and ending up with your faces blurred on an episode of Cops." Classic Beiste.
What did you think of the holly, jolly episode? Was it all over the place, or just right?