Glee Recap, "Heart"
Glee-ful Highlights From Episode "Heart"
It's Valentine's Day at McKinley, and everyone gets in on the action in this week's episode of Glee. For the lesson, Mr. Schuester wants everyone to choose a great love song to perform, which means a lot of the action takes place in the relationship department. Finn and Rachel try to get everyone excited about their upcoming nuptials; Brittany and Santana deal with scrutiny of the nature of their relationship, and Mercedes and Sam may love each other, but they just can't seem to get it together.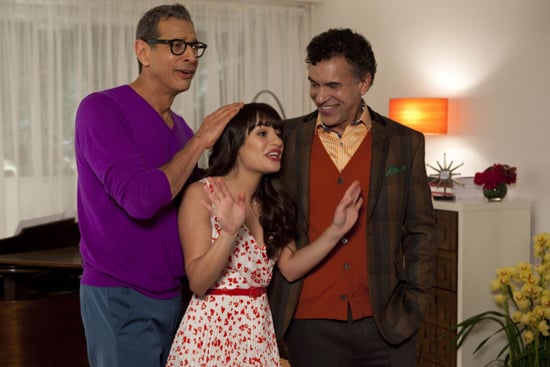 At first, I was pretty excited that "Heart" was going to be an episode full of musical numbers, but it feels a little plot driven for my taste. Regardless, there's a lot happened this week, so get in on all details after the jump.
Sugar gets the most onscreen time we've seen thus far, as her rich dad is throwing her a Valentine's Day party with "no single people allowed. They're sad and boring. And they don't exist in [her] world." For some reason, Rory and Artie start battling it out for Sugar's attention and affection. Artie kicks it off with what feels like the first solid performance of the night singing "Let Me Love You" to Sugar. It's fun, light, and full of love — everything I wanted in a sweet Valentine's Day-inspired tune. A few scenes later, we find out that Rory's student visa request has been turned down. Despite the fact that he misses his family, he insists that McKinley "Feels Like Home." After Artie's performance, Sugar decided she'd go to the party with him, but after Rory's song she's singing a different tune and decides to go with him.
During Glee club practice, Rachel and Finn announce that they're getting married, and it looks like the crew is split. We get the first real taste of Rachel and her two dads at a Valentine's Day dinner with Finn's parents. Everyone at the table seems surprisingly supportive about their relationship, and decides that the two should have a sleepover. We see Rachel's crazy nighttime ritual, and when Finn attempts to use the bathroom, she freaks out. It seems for a moment that her parents' crazy plan has worked — that is, until Finn and Rachel come downstairs and tell her two dads that they're just pushing up the wedding date even earlier. Although I did love Rachel's description of her Joan Crawford inspired ice bath, this whole situation was just kind of awkward.
Kurt receives a ton of gifts and cards from a secret admirer. We assume it's Blaine, but eventually find out that it's Karofsky (the guy who tormented Kurt so much that he transferred schools.) This plot point felt a little far-fetched to me, but I love how Kurt handled himself with so much class and grace. Mercedes breaks up with Shane, but lets Sam know that she can't be with him. Glee pays homage to Whitney Houston's memory with a rendition of "I Will Always Love You." Mercedes does an absolutely fantastic job making this song the vocal highlight of the episode for sure.
Brittany and Santana share a smooch, but Principal Figgins is not down with their PDA. The reason? Someone at school has filed a complaint about them on religious grounds. Soon after, The Glee Project winner Sam enters the show as Joseph Hart, hoping to show the school that "it's cool to be Christian." Mercedes, Quinn, Sam, and Joseph decide to form the God Squad, a religious group at school that will deliver vocal Valentines. The first goes to Rachel. I was really impressed with Joseph's vocals, backing up Sam's rapping to the Gym Class Heroes' song "Stereo Hearts." Santana sees the big display and decides to fight back by paying her $10 and sending one to her girlfriend.
At Sugar's party, Joseph tells everyone that of course they'll sing for Santana and Brittany, even though they're gay. The song starts off as a "Cherish" mashup which is sweet, but a little dull. But all that changes when Blaine hits the party as the special guest, and everyone dances around to "Love Shack." It's super fun, and I loved that Kurt got in on the action.
What did you think of tonight's episode? Was it up your alley or lacking a little "Heart"? Share your thoughts in the comments.