Glee Recap "I Am Unicorn"
Glee-ful Highlights From Episode "I Am Unicorn"
The second episode of Glee's third season has quite a bit more emotional meat than the premiere did, bringing Rachel's birth mother Shelby back to shake up both Rachel and Quinn's worlds. Meanwhile, the glee club begins dance practice and the school's musical starts its auditions, which affect Kurt in a few negative ways.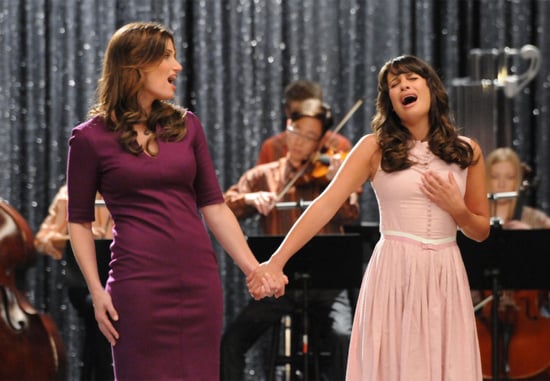 Sue is still trying to destroy the club, a plot line that's not getting any better, but happily there are some more interesting developments this week. To chat about the episode, just keep reading.
Mr. Schuester is keeping up all his efforts to succeed at Nationals in the coming year, so he institutes dance practice, aka "booty camp" for those who need it, like Finn (obviously), Puck, Kurt, and

Mercedes

. Schue is so invested in the dancing that he can't direct the school's West Side Story production, so he announces Emma and Coach Beiste as co-directors, along with student director Artie.
Shelby, Rachel's mother, former Vocal Adrenaline coach, and adoptive mother to Quinn and Puck's baby, is back from New York. After being wooed to head up a rival show choir to highlight Sugar Motta, Shelby is now working at McKinley, and now that she's settling in town, she wants Quinn to be a part of her biological child's Beth's life, but not as a pink-haired member of the Skanks. Quinn reacts poorly at first, but Puck, on the other hand, does want to see Beth, and he stops by Shelby's, sweetly asking to see his little girl. Puck is the one who talks some sense into Quinn, who then loses the pink 'do and comes back to the club, declaring her intent to get full custody of Beth.
Rachel is also struggling to deal with Shelby's sudden permanence in town, but she does let her in enough to help with her audition for the role of Maria, suggesting she belt out "Somewhere." Also obsessed with the play is Kurt, who has his eye on the lead of Tony. After the first round of tryouts, Kurt listens into the directors and gets his feelings hurt over the comments that he may be "a little delicate" to play Tony. To prove them wrong, he re-auditions with a more "manly" role of Romeo to Rachel's Juliet, but the insensitive panel giggles through it, crushing him. His dad points out that if he's not right for any male leads in musicals, he could just write his own.
There is another role Kurt's up for: class president. Brittany has assigned herself to be his campaign manager, spearheading a unicorn-heavy strategy, but Kurt's not that into it. Enter Brittany, who initially thinks she's not smart enough to run, but realizes that she, too, is "a unicorn," a metaphor I still don't fully understand.
Sue seeks out Quinn to use her for her congressional run, and she convinces her to make a PSA about how the arts ruined her life. When she tries to film a clip blaming the glee club for her downward spiral, Schue doesn't take it sitting down, telling Quinn to grow up. Even though it's probably not appropriate for him to be yelling at a student, I was glad to hear some of Quinn's actions from last season addressed, like not thanking Mercedes for letting her live with her, things I assumed the writers would just never revisit again.
The songs this week were all from actual musicals, because of auditions for the play, and the one I was most struck by was Blaine's. He'd backed off of the lead of Tony so Kurt could be the star, but after his wonderful performance, it's so clear that Blaine has to play Tony. There's agony on his face as the directors ask him to consider the lead, the part he wants so badly but knows Kurt wants too. I don't know how he can pass up the opportunity, but if he does, it will certainly lead to trouble for his relationship with Kurt.
What did you think of this week's episode? I liked the emphasis on Kurt and Quinn, but I wasn't as invested as Rachel and Finn's scene that implied that they're already growing apart. Nor was I excited about Sue's continuing campaign, or the idea that Will and Beiste will try to find an "anti-Sue" to run against her. Let me know your thoughts below!
Photo courtesy of Fox