Glee Recap "I Kissed a Girl"
Glee-ful Highlights From Episode "I Kissed a Girl"
Everyone's got election fever on this week's Glee, and we find out the results of both the student body and congressional race. Because of the political ad threatening to expose Santana, we watch her deal with her sexuality, and the support she gets (and doesn't get) from those around her. It brings out a soft side of Finn (no, that's not a reference to Santana's preferred insults for Finn), who asks everyone to sing a song celebrating women. Sue also gets taken to task for her love life, but her tactics end up hurting Coach Beiste.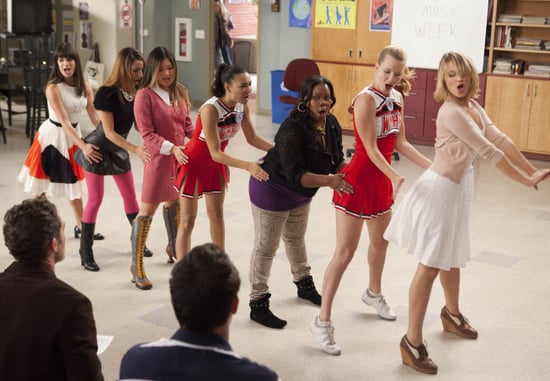 Meanwhile, Puck and Shelby take their forbidden relationship to the next level, and Rachel does something to help Kurt, but she ends up hurting the whole glee club. It's a surprisingly emotional episode, and there are lots of great lines (Santana and Sue really outdo themselves this week), but what made it for me are this week's upbeat, encouraging musical numbers. Let's break it all down into the highlights when you keep reading.
This week is all about Santana. She's in trouble for slapping Finn last week (I love how she blames her alter ego "Snix"), but Finn suddenly covers for her. He wants her to be able to compete with the Troubletones at sectionals, and he manages to deflect all her rude barbs. He tells her he thinks she's awesome, but he's also totally buttering her up so she and the other Troubletones will come back to the glee club. I'm not sure if Mr. Schue even teaches anymore, because Finn comes up with his own lesson plan for the glee club: they have to sing songs written by women. It's part of his plan to help Santana be more comfortable with herself, and Blaine and Kurt sing "Perfect" to her. It's incredibly sweet, but it doesn't work, and she's still as nasty as ever (but pretty funny, with quips like "Your hideous bow ties are provoking me").
Finn isn't discouraged by Santana's maliciousness, and he confronts her in the hall to tell her that it's just defensiveness that makes her act like such a jerk. He says that he's worried that she might turn to hurting herself if she doesn't accept herself, and he sings "Girls Just Want to Have Fun" to her in the choir room later. Man, Finn may not be my favorite singer on the show, but I love this arrangement. He finally gets through to her, and she thanks him. Salazar's ad airs and Finn's work is put to the test; some creep hits on her in the hall, declaring that he'll "straighten her out." The girls all come to her defense and then bust into "I Kissed a Girl," and at the song's end, Santana reveals that she's come out to her parents. The other test for her is her grandmother, and when Santana explains that she's gay, her grandma doesn't take it well. She kicks Santana out of the house, implying that she would have rather had Santana just never tell her.
Sue sets out to prove that she's very into men so people won't believe Salazar's ad alleging that she's a lesbian,. She goes through her big black book of former hookups (which includes Stephen Baldwin and Matt Lauer) to stage some hetero photo ops, and comes up with Cooter. Though Cooter has been hanging out with Coach Beiste, it turns out that their hot nights are more about lifting weights than horizontal sexy time. Beiste is heartbroken (and even sings about it), but Cooter says he likes Sue because Beiste acts so lukewarm about him. When Sue loses the election (go Burt!), she decides to keep her claws in Cooter, which I assume is totally to upset Beiste. Beiste finally tells Cooter she's in love with him, and swears she won't walk away without a fight. Is it weird that I'm super invested in this love triangle? I want to see Coach Beiste take Sue down!
Puck is still hot for teacher, singing Melissa Etheridge's "I'm the Only One" directly to Shelby at school (my favorite performance of the night). It makes Quinn jealous, so she comes on to Puck, inviting him to come over to fool around. Puck rejects her pretty hard, telling her she's high-maintenance and selfish (along with some other things I'm too much of a lady to type out here). He gets the girl he does want when Shelby calls him after Beth hurts herself. Puck gets all strong and paternal at the hospital, and I guess his fatherly side turns Shelby on, because the next thing we know, they're post-sex in her apartment. When she says she made a mistake, Puck calls her a coward for being afraid to have a relationship with him. It drives Puck to Quinn, who wants to have sex without protection because she wouldn't mind getting pregnant again. Smart! In all seriousness, how low is her self-esteem? Puck turns kind and acknowledges the role he played in making Quinn feel that way, and they cuddle. Head-slapping moment of the episode: feeling cozy, he tells Quinn he has to tell her something that she can't tell anyone. Oh, Puck. You must have used all your brains in math class this week.
Kurt wants to win the student election so bad — convinced he needs it to get into NYADA — that he considers stuffing the ballot boxes. Rachel wants him to win too, and get into the same school (she needs her best gay in New York, she explains). When Kurt wins the election, Figgins and Coach Beiste let him know they know something is up, because there are more votes than seniors. Kurt insists that he didn't cheat, and Rachel admits to Finn that she did it because she wanted to help. To get him out of trouble, she confesses to Figgins, who suspends her for a week. In tears, she tells the glee club that she's been banned from competing at sectionals.
So Brittany is the new school class president, Burt's a new congressman, and Rachel is out of the running for sectionals this year. Do you think the club will compete without her or devise some wacky scheme to get her back in? And what did you think of Santana's battle to come out to her family and deal with her sexuality at school? Weigh in below!
Photo courtesy of Fox