Glee Recap of "A Katy or a Gaga"
Glee: The Highlights From "A Katy or a Gaga"
Glee is back, now with more shirtlessness than ever before! Several weeks after the show's touching tribute to Cory Monteith, the cast has returned with enough Top 40 numbers to put a smile on any fan's face, especially if you happen to be "A Katy or a Gaga." We knew from the pictures that this would be an interesting episode, and the glee club does not disappoint. When Mr. Schue challenges the kids to find their inner Katy Perry and Lady Gaga, not only do they get in touch with their personal divas, but the kids also rustle up really authentic costumes.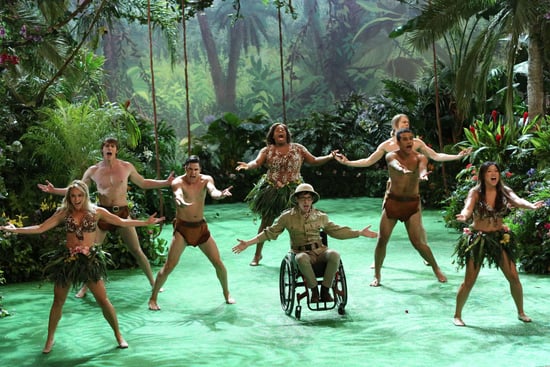 While Sam is in hot pursuit of Nurse Penny, Jake and Marley are in the midst of some growing pains, and Kitty's still into Artie. Over in New York, Kurt's sick of being Rachel's sidekick, so he decides to start his own band. Demi Lovato is still hanging around as well, which I kind of dig. Speaking of, let's dig into the highlights from this week's fun-filled Glee after the jump!
Sam is still crushing hard on the school nurse, which sounds weird, but it's actually kind of legit because she's a college student. When Nurse Penny hints that she has a "dark side," Sam delves into creating one heck of a Gaga show for her. Let's be honest: that girl is squeaky clean. She finally gets honest with Sam, admitting her love for all things mainstream (though apparently she's too good for "the Biebs"), and they make out. Sam calming himself down after kissing her is literally my favorite part of the season so far. It almost makes up for his disturbing Gaga-inspired teaser video.
Runner up for creepiest visual of the night: Gaga-Artie tugging on his painted face. Is someone making a GIF of that right now? Because it's already in my nightmares.
Adam Lambert turns up this week as Starchild, a singer whose over-the-top look is just a little too much for Kurt's new band. That's right, Kurt is starting a band. He's sick of being Rachel's quirky best friend, and he's ready to move on and become a star in his own mind! And by move on, I mean he starts a band then invites Rachel to join it. Lame, Kurt. I am glad we'll get to see more from Starchild, though!
The most realistic (but generic) storyline this week goes to Jake and Marley, who are stuck in a rut. All she wants to do is watch Julie Andrews movies and he wants a bit more from her . . . body. When she turns down his sexual advances again, he turns to evil Cheerio Bree, whose readiness to jump in the sack — er, behind the bleachers — with him is really gross. I'm not a huge fan of Marley's character, but this is going to suck for her, even more than getting suspended for the glee club for choosing not to wear a seashell bikini.
"Roar" is great and all, but in an episode full of pomp, circumstance, and glitter, the best number of the night is the club's stripped-down version of Perry's "Wide Awake." Their rendition is haunting and vulnerable, and I would totally listen to it in my free time.
The real star of this week's episode? The costumes. I loved seeing everyone in various infamous getups inspired by the pop divas, and I'm really impressed with Glee's seamstress! Good show, costume department.
What did you think of "A Katy or a Gaga"?