Glee Recap: "Lights Out"
Glee-ful Highlights From Episode "Lights Out"
The lights go out at McKinley High this week on Glee, forcing the students to use flashlights and forcing me to wonder why they don't just open the blinds. Inspired by the lack of electricity, Mr. Schue makes it "unplugged week," but the only one who seems to embrace the lack of synth is Sam. The episode also takes a turn for the very serious when Ryder makes a personal confession to the glee club. Is it just me or does it feel like Glee is really hitting on hard issues this season? We also learn some important lessons about the dangers of mylar balloons.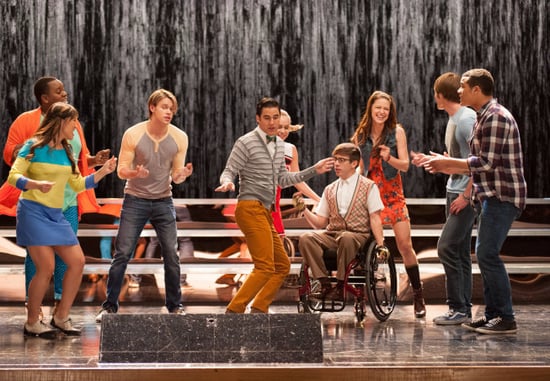 Over in New York City, Rachel and Kurt are concerned about Santana's lack of direction, and Sarah Jessica Parker makes a triumphant return as Kurt's "fairy godmother." Get my highlights and a Spotify playlist of all the songs in the episode when you read more.
First of all, shout out to American Idol's Jessica Sanchez, who we see only a glimmer of as a member of another team competing against the New Directions at Regionals. She belts out "The Star-Spangled Banner" like a pro, and I'm really looking forward to seeing and hearing more of her.
Despite the fact that according to Kurt and Rachel, Santana is a deadbeat, she's actually the smartest character on the show. She's got the wittiest one-liners ("I don't think I need to be taking any advice from TV's Blossom"), and she really has a grip on reality. I love the end of this episode when she hugs her inner child. It's sweet and a little whimsical, just the way I like my Glee.
I'm overjoyed to see Sarah Jessica Parker back as Isabelle (though, to be honest, I prefer Kate Hudson's bitchy Cassandra as my recurring Manhattan guest star). I'm still completely unable to look past the inaccuracies of Kurt's storyline, though. So he scores this magical internship, but now he basically stops showing up and gets rewarded for it with a big assignment? Oh, and yes, recruit some of your random friends, too. That's realistic. I know, asking for realism in a show in which people break out into song every few minutes might be too much.
Speaking of song and dance, I like that Isabelle joins Santana, Kurt, and Rachel in their rendition of A Chorus Line's "At the Ballet," but boy are her lip-synching skills lacking. Sorry, SJP.
Back in Ohio, Ryder takes the candlelit opportunity to admit a deep secret to the glee club: he was molested by his female babysitter when he was 11 years old. I thought the guys' reaction to his confession was really over the top. I understand the point Glee is making about society not taking that type of abuse seriously, but it felt really unrealistic. I'm glad he finds a kindred spirit in Kitty, who seems to be softening from when we first met her at the beginning of the season. Could she be the Catfish?
Sue's already found a new career path: personal trainer to a fitness class full of models who exclusively take style tips from the 1980s. Also, Blaine is taking her class too. Better him than me; that workout looks intense.
What are your thoughts on this week's episode?