Glee Recap, "Mash Off"
Glee-ful Highlights From Episode "Mash Off"
What goes around comes around, and Santana learns her lesson the hard way on this week's episode of Glee. When Mr. Schue and Shelby decide to put their respective singing groups head-to-head for a little friendly competition, things spiral out of control and get ugly. Very ugly.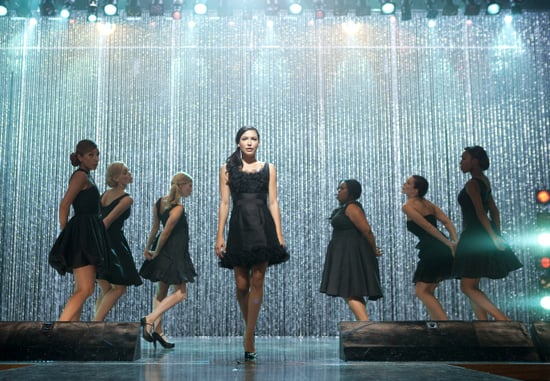 While Finn and Santana are busy trash talking, the presidential election heats up between Kurt, Brittany, and Rachel — with one key player dropping out of the competition. There's a lot of foul play going on, so let's break it down when you
.
Puck (or should I say "Puck-fasa"?) has decided he's in love with Shelby — so in love that he expresses his emotions with a rendition of "Hot For Teacher," complete with crotch grabs from Blaine and Kurt. Though he's still keeping the torrid affair a secret from his friends, he's laying it on pretty thick with Shelby. She tells him the kiss was a mistake, but still lets him come over to see Beth, which is when Puck spills the beans about Quinn's plan to get their baby back. Shelby naturally doesn't react well to the information, and forbids Quinn from seeing the baby anymore.
It's no surprise that Sue has taken to mudslinging for her campaign, and her latest ad goes straight for Burt's heart, literally. I have to admit that I giggled a little at the comparisons between Burt and a baboon, even though the commercial sets a precedent that later comes back to bite Sue in the butt. Meanwhile, Brittany is doing some slandering of her own, saying that Rachel is (gasp!) on MySpace, and Kurt's face is used for My Little Ponies.
Mr. Schuester and Shelby try to set up some healthy competition with the New Directions and the Troubletones, introducing a "mash-off." (This show loves nothing if not a mashup.) It takes about 10 seconds for Santana to go into full attack mode, specifically targeting Finn. Normally I find Santana's insults amusing, but she goes way too far this week, making me wonder why Brittany even continues to stick by her side. Since Finn can't trash talk, he suggests that the two groups take things to the gym for a game of dodgeball instead.
The dogeball scene is cheesy as all get-out, but the entire cast looks like they are having a blast singing and dancing to "Hit Me With Your Best Shot" / "One Way or Another." It's all fun and games until Santana's nasty streak continues when she starts pounding poor Rory with a dodgeball. It's hard to feel sorry for her when Finn finally finds a way to hit her where it hurts: he calls Santana out on being a lesbian and says she's a coward.
At the presidential debates at school, Kurt is the only candidate who makes a speech that isn't completely ridiculous. While Brittany vows to protect McKinley from tornadoes, Kurt wants to ban bullying and dodgeball. His fellow students may not agree with Kurt's feelings about dodgeball, but it's sweet and touching to see him putting together a genuine campaign promise. To give him an extra boost, Rachel drops out of the competition and throws her support to Kurt.
Though no winner is crowned, both the New Directions and the Troubletones bring out really amazing mashups for the competition. New Directions definitely win the award for best costumes; they channel the '80s with a Hall & Oates mashup that's uptempo and fun to watch. Meanwhile, the ladies go for a more emotional number with a combination of Adele songs. Which group gets your vote?
Though Finn knocks Santana down a notch, she's not prepared for what happens next: apparently one of the candidates running against Sue overhears Finn calling Santana a lesbian, and uses it in his own attack ad against Sue. He implies that Sue is a lesbian and targets her for having a lesbian cheerleading captain. Not only is the ad shocking and inappropriate in so many ways, but it's the final straw for Santana, who breaks down and slaps Finn across the face after the Troubletones performance.
Did you feel bad for Santana by the end of the episode, or did she get what was coming to her? Are you liking Puck and Shelby together? Sound off in the comments!
Photo courtesy of Fox