Glee Recap, "Michael"
Glee-ful Highlights From Episode "Michael"
When I heard that Glee was performing a Michael Jackson tribute, I basically starting moonwalking across the floor, but the episode didn't quite live up to my expectations. I definitely appreciated the effort, and there were absolutely some standout performances, but I would have loved more Jackson 5 or old-school Michael disco tunes.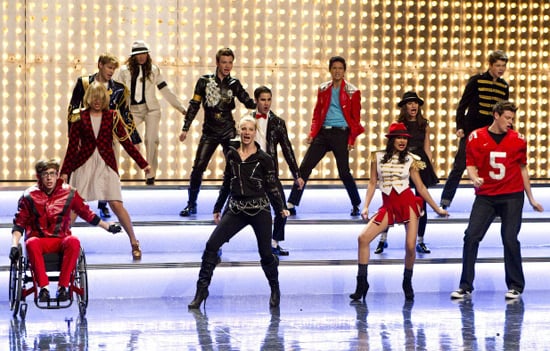 With so many songs crammed in, there's very little in the way of plot here. Basically, the entire episode is about the rivalry between the New Directions and the Warblers, and Sebastian emerges as the show's new villain when he hits Blaine with a jacked-up slushie. Oh, and Rachel finally gives Finn an answer to his proposal! Ready to break it all down? Just read more.
The episode opens up with a big, beautiful MJ-filled bang — Blaine leads the New Directions with what he thinks is the perfect song for Regionals. I absolutely loved this performance of "Wanna Be Startin' Something." Blaine is stepping into his role with the club perfectly; he's become my favorite male voice on the show.
Finn asks Rachel for a response to his proposal, but Rachel feels pressured and needs more time. She nearly gives her answer, before Finn cuts her off and agrees that she deserves as much time as she needs. When Rachel asks for Quinn's advice, Quinn announces that she's been accepted to Yale and gives Rachel her honest opinion — that she should break it off with Finn. This moment in the bathroom is a perfect lead-in for her performance of the classic Jackson 5 tune "Never Can Say Goodbye," which ultimately turns into a montage of all Quinn's lost loves on the show. Regardless of the totally cheesy nature, I thought her voice was spot on for this song.
While the New Directions have decided to perform Michael Jackson for Regionals, Sebastian and the Warblers get wind of the idea from Blaine and decide to do it as well. Eventually, Santana and Sebastian and their respective crews battle it out to decide who's "bad"? The performance definitely pays homage to the original video and its West Side Story influence, but the whole thing just felt pretty underwhelming to me. That is, until Blaine gets slushied with a drink that's been seriously tampered with, scratching his cornea. Artie becomes so enraged with the whole thing that he goes to a dream sequence where he and Mike Chang perform a super-long version of the Janet and Michael Jackson tune "Scream." I was excited to see Artie's killer moves, but Mike as Janet was a bit over the top.
There are two musical highlights of the episode for me. The first is Mercedes and Sam performing "Human Nature" — the whole thing gave me the chills I had been expecting for the last twenty minutes. The icing on the cake? The two kiss at the end! Later on, Santana and Sebastian battle it out one-on-one "Smooth Criminal" style, accompanied by only a duo of cellos. I was so glad that Santana got to take the lead on this one, and I was absolutely impressed by Sebastian's voice. I doubt this is the last we'll be seeing of him.
Rachel and Finn perform "I Just Can't Stop Loving You" back in the choir room. It's pretty good, but I didn't really care either way whether she accepted his proposal. She ends up accepting, but it feels like a pretty mediocre experience given the most recent episode. Plus, she gets her letter as a NYADA finalist, so let's see if this sticks.
What did you think of this week's episode? Share your thoughts below!