Glee Recap "On My Way"
Glee-ful Highlights From Episode "On My Way"
On this week's episode of Glee, things are taken to a whole new world of drama. I knew the Winter finale episode "On My Way" was going to be big, but I didn't really know what I was getting into. The New Directions head to Regionals to take on the Warblers, but the whole show choir thing feels a little trite as tragedy after tragedy takes place in the community.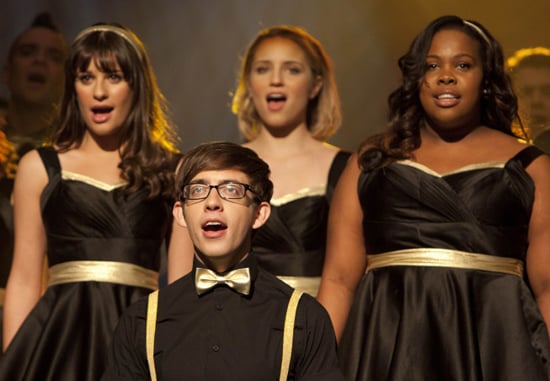 The episode feels a little (OK, a lot) like an "It Gets Better" commercial, but all the twists and turns left me wanting more. I can't believe we have to wait until April to find out what happens, so let's get "On My Way" with all the details, after the jump.
Sue confides to Quinn that she's pregnant, and despite the fact that Quinn helpfully answers questions about how to deal with morning sickness, Sue refuses to let Quinn rejoin the Cheerios. But after Sue sees Quinn giving it her all at Regionals, she admits how much she admires her, and in the perfect moment, she gives Quinn back her cheerleading uniform. I'm concerned that motherhood is going to make Sue too soft for my taste.
I'll say it once and I'll say it again: Blaine has the most commanding voice on Glee right now. He asks Kurt if they can try out a new song ("Cough Syrup" by The Jakes), and the number cuts back and forth between Blaine onstage and Karofsky getting bullied at his school for being gay. The sequence leads up to Karofsky being distraught in his room and attempting to hang himself. Watching it, I literally gasped — I couldn't believe that the show was going to make a statement of that magnitude. Thankfully, it ends up that his attempt is unsuccessful, but everyone in the community is still shaken by the incident. While playing up the intense pain that comes with cyber-bullying and what it's like to be gay teen with no one talk to, Kurt and Sebastian both feel responsible after their interactions with Karofsky.
When the episode opens, Sebastian says he has an engagement gift for Finn and Rachel: an attempt to blackmail Finn by photoshopping his face on a nude photo. He tells Rachel and Kurt the only way he won't upload it to the Internet is if they drop out of Regionals. With all this "show choir terrorism" from Sebastian, I was wondering if we'd ever find out where his hostility comes from. But after he realizes he may have been partially responsible for what happened to Karofsky, Sebastian seems to have turned over a new leaf. He says he deleted Finn's picture, and he simply wants the Warblers to win fair and square.
The Warblers have the first performance at Regionals with the song "Stand." While it feels appropriate for the theme of the episode, I wasn't too inspired by what's happening on stage. Instead, I was more impressed with how cheesy and sweet it is that Finn decides that everyone should literally stand and cheer for their competitors. The reason? "Life's too short." Right after, The Warblers perform "Glad You Came," and even though I'm having a hard time with the idea of forgiving Sebastian even though he nearly blinded Blaine, this performance is really fun.
The New Directions performance kicks off with a R. Kelly "I Believe I Can Fly" mashup. There's a lot of rapping initially, and though I'm not really sure why, but everyone's energy makes up for it. While the choreography is some of the most inspired we've had in a few episodes, things really get good when Santana, Mercedes, and Brittany kill it with their performance of "Stronger." This is a perfect song for Regionals and for this episode: it's empowering, strong, and strangely understated. I don't know why I'm ever surprised that Mercedes blows me away — I just want her voice singing to me all day, every day. Rachel finishes up with "Here's to Us," and the New Directions take home first place at Regionals. Hooray!
After David's suicide attempt, Mr. Schuester admits to everyone that he considered killing himself when he was a junior in high school. He insists that everyone has something that takes them to the edge, and asks everyone to think of something they're excited for in the future. While visiting him in the hospital, Kurt brings this exercise to Karofsky, which seems to help. I've got to be real: I'm really glad that no one dies on Glee this week — up until that point at least.
Rachel tells Finn that she doesn't want to wait to marry him, and that after they win Regionals, she's ready to walk down the aisle. Right before they go on stage, the happy couple announces to everyone that their nuptials will take place right after they win, and post-win, Quinn says she wants to come to the wedding. Despite the fact that all the parents are upset about Rachel and Finn's wedding, things seem pretty hunky dory . . . until Quinn gets hit by a truck after texting Rachel while driving. I can't believe we have to wait until April 10 to see if she lives or dies.
What did you think of the Winter finale? Were all the dramatic moments over the top or did they play out well for you? Chime in with your thoughts below.