Glee Recap "Pot O' Gold"
Glee-ful Highlights From Episode "Pot O' Gold"
Glee is back after a few weeks of absence, and we get a sweetly accented new character in the form of Rory Flanagan, played by The Glee Project's Damian McGinty. The Irish student hits the school just as the glee club is having some problems financing the musical and keeping its members intact while Mercedes tries to poach members for Shelby's show choir.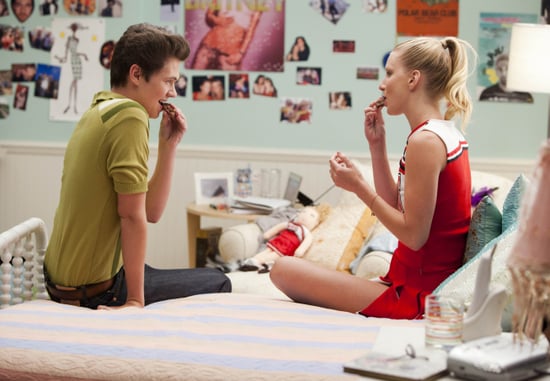 Meanwhile, Quinn tries to get her daughter back at any expense, which indirectly leads to a forbidden moment between two characters. Ready to break down everything that happens? Just keep reading.
Foreign exchange student Rory McGinty is fresh from Ireland and hoping to make friends besides his host student, Brittany, who's naturally pretty sure he's a leprechaun. Rory comes up against some opposition via the bullies of McKinley High (and with The Muppets coming out soon, I adore his rendition of "Bein' Green.") He also can't ingratiate himself to Santana, who's wise to Rory's crush on Brit, especially since she and Brittany are finally dating. Even though Finn is resistant to the friendless Rory at first, he uses Rory to find out whether Brittany is thinking of going to Shelby's choir, then finally becomes the nice guy we know is in there, and invites Rory to join the glee club.
Mercedes, having defected to Shelby's show choir, sets about to recruit other members of New Directions. Blaine never met a Katy Perry song he didn't like, so he belts out a lively rendition of "Last Friday Night" to remind the group of how fun glee club can be, but it's not powerful enough for everyone. Mercedes gets to Santana by making her resentful of playing second fiddle to Rachel, and she decides to quit the club, and she makes one wish to "leprechaun" Rory — that Brittany quits the glee club too. Brittany becomes positive in her decision when Finn tries to talk her out of leaving and calls her an idiot (way harsh, Finn).
When the musical hits a funding snag thanks to Sue, Kurt's dad Burt and the Rotary Club come to the rescue. Sue's aggression lights a fire under Burt, and Mr. Schuester gets an idea: have Burt run against her as a write-in candidate for congress. Burt agrees, and Schue comes on as his campaign manager.
Quinn and Puck convince Shelby to let them babysit Beth, and Quinn goes to work to prove that Shelby is an unfit mother by planting things in her apartment that Child Protective Services would frown on. Quinn's desire to have Beth back is mostly just sad, as she expresses that Beth is her "one perfect thing" — not exactly the best motivation to propel you into parenting. Puck isn't as into taking down Shelby, especially when she hooks him up with a pool-cleaning gig, and he cleans up all of Quinn's incriminating items. Then all the familial bonding has an adverse effect after Puck sings Beth a super-sweet lullaby, "Waiting for a Girl Like You." Puck and Shelby discover an attraction to each other and kiss as the episode closes.
What did you think of this week's Glee? Do you like new character Rory, and are you into all the drama of the show choir vs. the glee club? Weigh in with your thoughts below!
Photo courtesy of Fox