Glee Recap "Prom-asaurus"
Glee-ful Highlights From Episode "Prom-asaurus"
It's prom time again on Glee, and this year's festivities contain just as much drama as last year's, plus infinitely more dinosaurs. That's right — Brittany decides to exercise her presidential rights in order to celebrate the peace that apparently once existed between cavemen and dinos. It doesn't make much sense, but it does give Brittany the opportunity to prance around in a Flintstones-esque getup to Ke$ha's "Dinosaur."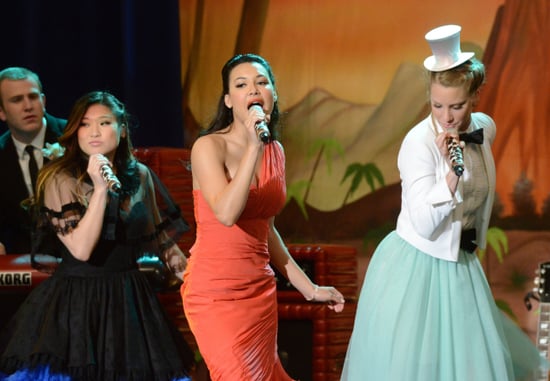 It wouldn't be prom without a heated race for king and queen, and the usual suspects have their eyes on the prize: Quinn, Santana, Kurt, and Brittany. Only Quinn uses questionable methods in hopes of winning the crown, but once again, there's a shocker when the envelopes are finally read. It really feels like we're inching closer to that bittersweet Glee graduation, so let's recap the episode when you read more.
Can I just say how much I loved all of the performances this week? OK, "Dinosaur" isn't about to be added to my iPod, but the slate of pop songs is otherwise wonderful. Rachel, Kurt, and Blaine harmonize beautifully on "Big Girls Don't Cry," while "Love You Like a Love Song" and "What Makes You Beautiful" are perfect current choices for the prom. The clincher of course is "Take My Breath Away," which serves nicely as the prom king and queen dance. Overall, I was feeling it.
With NYADA no longer in the picture, Rachel decides to shift her focus away from her shattered dreams and on to her prom and her wedding. That is, until she learns that Finn and Quinn are campaigning together for prom. It's easy to see both sides of the equation: Rachel doesn't want her prom night ruined by another girl, but Finn wants to help his friend who's had a rough year. Rachel doesn't give in though, and decides to throw her very own anti-prom party. It might have been a good idea if anyone besides Kurt, Blaine, Puck, and Becky showed up.
Quinn starts making major strides at therapy with Joe's support, and decides to show off her walking skills at the prom. In the meantime, she shamelessly uses her condition to sway voters, much to Finn's chagrin. He's sent over the edge when he catches her on two legs during the prom, and is particularly mad at himself for putting Quinn's feelings first. Finn nearly gets into a brawl with Joe after aggressively demanding that Quinn come clean to all the people that voted for her, but ultimately storms off instead.
Finn sets out to bring Rachel and co. back to the prom, which is well timed since Rachel just so happens to be showing off her perfect prom dress at that very moment. It seems like everyone's happy, until Santana learns that Brittany won't win prom king and is bitter about the whole prom court situation. Quinn has earned the most votes anyway, but she takes no pleasure in the victory — and tells Principal Figgins that Rachel was a write-in winner. It's a very sappy, very Glee moment, but it's a refreshing change of pace after Kurt winning prom queen last year as a cruel joke. Rachel's genuinely shocked, and once she realizes she's not in her own version of Carrie, she enjoys her moment in the sun.
There are major strides for the rest of the kids as well: Becky finally gets her crown, Puck fulfills his lifelong dream of spiking the prom punch, and Blaine conquers his fear of going gel-free. Like I said, big accomplishments.
How did you feel about the second helping of prom — and which prom episode do you prefer?