Glee Recap "Puppet Master"
Glee: The Highlights From "Puppet Master"
Either I just watched this week's Glee, or I just had an especially musical fever dream. We knew from the pictures of "Puppet Master" that this would be an interesting episode, but I didn't think it was going to be so . . . trippy. It's all about Blaine, Sue, and Pamela Lansbury as the school year rolls on, and Nationals approach. But who cares about the plot? There are puppets, and they sing "The Fox (What Does the Fox Say?)," making this the best episode of Glee ever.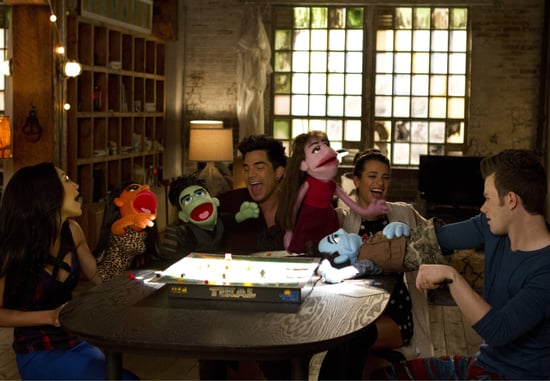 Seriously, this episode is nuts, and I loved every minute of it. There are some plot holes (how does Blaine make so many professional-looking puppets and how does he ship them to New York so fast?), but with its creativity and bizarre elements, this episode epitomizes the Glee I adore. Let's go over the highlights when you read more.
Sue is under scrutiny as the school board prepares for a visit to McKinley High. The initial session is emotionally disastrous, as one of the handsome higher-ups mistakes Sue for a man. Sue has some masculine energy, but she's clearly a woman. Whatever, I'll go with it. After a flashback to Sue's '80s past (apparently she was once very womanly) and a botched trial with some high heels, she enlists Unique's help with a makeover. I felt her pain as she gets brutally rebuffed by the gentleman suitor in front of their colleagues, but then again, asking someone on a date in front of all those people is pretty ballsy.
Puppets everywhere! There's a huge gas leak in the choir room, which is detrimental insofar as it's making everyone loopy. Blaine is having serious control issues, until he sits in the corner of the room, and everyone turns into a Jim Henson-style muppet. Tina's a puppet, Sam is a puppet, Artie and Unique are puppets, and it's amazing. They even sing! I'd like to have their rendition of "The Fox (What Does the Fox Say?)" as my morning alarm.
In the wake of his split from Marley, Jake is sleeping around. All of a sudden he's the choreographer of the Cheerios, in addition to sleeping with all of them. This irks Bree, mostly because she thinks she's pregnant. Who else had flashbacks to Quinn and Puck during their conversation in the hallway? Cheerleader gets knocked up by the school bad boy? Yeah, we've seen this before. Turns out she's not pregnant, but she does give Jake a much-needed piece of her mind. This is the one time since we met Bree that I actually liked her. My favorite Jake-centric quote of this episode comes courtesy of Janitor Figgins: "Why are you such a mysterious musical bad boy?"
It's great to see Demi Lovato and Adam Lambert return to the show as Kurt and Rachel's bandmates, except they really don't participate much, save for a colorful Madonna cover. Kurt continues to be New York's luckiest transplant, landing Pamela Lansbury a lame gig that turns into an amazing opportunity at Williamsburg's hottest club. We'll have to see how that goes.