Glee Recap, "The Role You Were Born to Play"
Glee-ful Highlights From Episode "The Role You Were Born to Play"
Can you hear it? That faint harmonizing? That's the sound of Glee's evolution. Torches are being passed, roles are being cast and redefined, and fresh blood is taking over McKinley's stage. This week's episode ends Glee's long hiatus, and everyone is feeling the sting of change, especially Blaine, who's experiencing his first epic heartbreak after ending his relationship with Kurt. But enough sadness. There's a musical to cast! Now that the New Directions' first class has moved on, the club has to find some new peeps to put on the best rendition of Grease ever! Good thing they'll be under some experienced tutelage.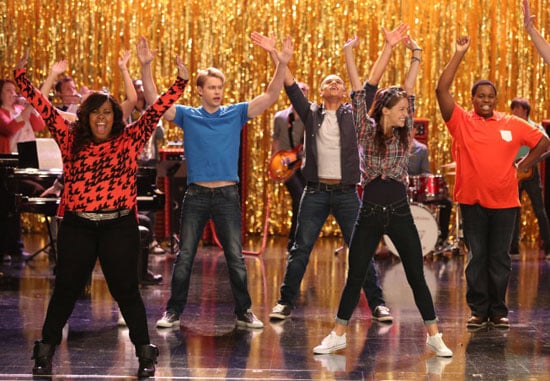 That's right, not only is Finn returning to his old stomping grounds, but also, he and Artie have recruited some old friends to assist with the audition process. Though some familiar faces returned, this week's episode really belongs to the new kids on the block. Jake and Marley's flirtation hits a speed bump, and it's not just Kitty. Let's break it down and listen to all the songs from the episode after the jump.
I'm not ashamed to say I sang along with Blaine's downtrodden "Hopelessly Devoted to You." His rendition is even more maudlin than Olivia Newton-John's in the movie. I think Artie puts it best following Blaine's tearful post-audition outburst: "I've never seen Blaine so Masterpiece Theater."
Three cheers for the returning players, Mercedes and Mike Chang! I know I'm supposed to be moving on and embracing the new characters, but I still love seeing the old group reunite. I think Finn needs the shot of familiarity too, with so much changing around him.
Let me just say, there's nothing wrong with working in Kurt's dad's auto-body shop, but Finn is destined for so much more! Yes, it's kind of creepy for graduates to be hanging out at their old alma mater, but weirdness aside, I like everything they're doing with Finn. Once he stops whining about the bleak outlook of his life, he gets involved. He discovers a new student to take over his alpha male place in the club (on the football field, of all places), and Mr. Schue asks him to take over the club. Realistic? Maybe not. Heartwarming? Totally.
The aforementioned new student is Ryder, aka Blake Jenner, winner of The Glee Project's second season. Only one episode in and he's already showcasing his breakdancing skills on the field and romancing Marley, my my! Cue the complicated love triangle hand jive dance-off. I liked Ryder's "Juke Box Hero," but I think he can be even stronger. I can't wait to see where they take him, especially because he's seems a little too good to be true — there's got to be a flaw there somewhere.
Marley and Unique make a great BFF pair, and this is no more apparent than during their "Blow Me (One Last Kiss)" duet. Did you hear those notes Unique hits? I'm all in support of Unique playing

Rizzo

, though I'm a little worried about his safety in a town that's not exactly known for being progressive — just ask Kurt.
Sue's caught off guard this week thanks to an incredibly uncalled for (yet revealing) dig from Finn in the heat of the moment — but that's not to say that Sue doesn't dish out her own fair share of inappropriate comments. That said, Kitty is turning out to be even more evil than Quinn in season one. I do want to thank her for making me laugh out loud at the phrase, "Fifty Shades of Gravy." Sorry, Marley, but that was a great burn.
Are you happy with the way the judge's panel cast Grease? Will Mr. Schue and Emma's relationship survive long distance?