Glee Recap of "Sadie Hawkins"
Glee-ful Highlights From Episode "Sadie Hawkins"
Welcome back, Glee fans! After a long, long hiatus, McKinley High and NYADA are back in session. With the prom looming, Tina motions to hold the first annual Sadie Hawkins dance so the boys can find out how it feels to sit around the telephone and wait for someone to call. This, predictably, causes extreme anxiety and a high-stakes singing challenge. Over in the Big Apple, Kurt is thinking about joining the Adam's Apples — that is, the choir club at school.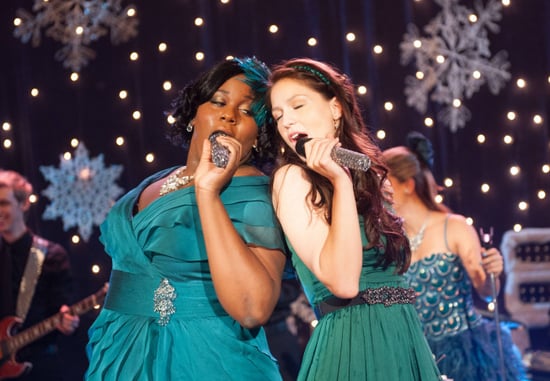 This episode has a little less Finn than I would have liked, but we get plenty of Sam, his luscious lips, and his crazy conspiracy theories — one of which looks like it might be the glee club's ticket back into Sectionals. We even get a particularly creative version of Sir Mix-a-Lot's "Baby Got Back." Get a playlist of music from the episode and read over the highlights from "Sadie Hawkins" when you read more.
So the Warblers are using performance-enhancing drugs. Well, this feels timely. Sam's been studying pictures of the Warblers from previous years, and he's realized there's something fishy. Their heads are getting bigger — and not just metaphorically. At first no one really takes him seriously, until a Warbler steps forward and admits the new head honcho (the guy with the cat) has been pushing the drugs on them. Will he testify so the glee club can take their place at Sectionals?
Blaine has a crush on Sam! Of course Blaine loves Sam. How could anyone not love Sam? It's brutal watching Blaine turn down Tina after her heartfelt song, but this love triangle is only bound to turn out even more heartbreaking for everyone involved. I'm also really confused about why Tina's crushing on Blaine. If feels so random, especially since there's no question that she knows he's gay. Where are the writers going with this?
While Blaine is crushing on Lip Smackers Sam back at the farm, Kurt is taking action over in New York. He's been eying the school's choir program, though Rachel warns that it holds a fate far worse than social suicide: guaranteed professional mediocrity. In her words: "You may as well be doomed to a life of being a dancing teapot at Disneyland." Who cares; the guy who runs it is adorable, and he has an accent. I approve of this casting addition.
Puck really takes a bullet for little bro Jake this week, volunteering to get rid of Kitty so Jake can go to the dance with Marley. Turns out Puck and Kitty are actually incredibly entertaining sparring partners; their exchange in the hallway has to be my favorite part of tonight's episode. Has there ever been a better metaphor made about chocolate chip cookies? I think not.
Rachel's been really busy helping Brody prepare for auditions for Magic Mike the Musical (perfect) and making him turkey burgers. Brody has been taking the train to see her, but he has to freeze his buns off waiting for the train from Manhattan. Solution? Ask the guy to move in! New problem: Rachel doesn't clear this with Kurt. Not that anyone could complain about waking up to find Brody making toast in his boxers, but I see trouble brewing on the horizon.
Were you as taken with Ryder's rendition of "I Only Have Eyes For You" as I was? Did you kind of want to sit in for a meeting of the Too Young to Be Bitter Club? What's your take on this week's episode?