Glee Recap of "Shooting Star"
Glee-ful Highlights From Episode "Shooting Star"
This week's Glee episode takes on a very serious and troubling subject: school shootings. Despite the episode's title, I was just as caught off guard as the glee club when the bullets ring out. The episode kicks off with business as usual: the club is prepping for Regionals, Lord Tubbington makes an appearance, there's a new asteroid headed toward Earth, and all of a sudden, the glee club is on the floor in the dark and Artie is filming last testaments. Eventually we learn the truth behind the shots, and the incident leads to the dismissal of a McKinley High teacher.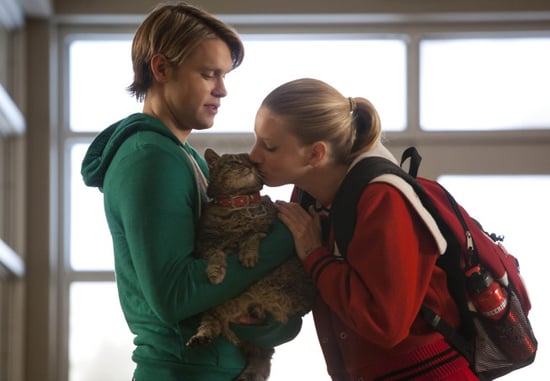 This is the first episode without any New York action or even a glimpse of the graduates, and that aspect worked well. The complete absence of Rachel, Finn, and co. made me realize how stretched thin Glee has been and how much better it is when it focuses its attention on a smaller group. Though "Shooting Star" is without a doubt one of Glee's most emotionally loaded shows, I'm still going to pick out the most gleeful moments from the episode. Check them out, and get a Spotify playlist of this week's songs, after the jump.
We need to talk about Sue. I, along with the rest of McKinley High, fully assumed there is an actual shooter roaming the halls. It turns out Becky brings her dad's gun to school, shows it to Sue, and voices her concerns about being in the real world after she graduates. Sue tries to take it away, but Becky accidentally fires the gun and it fires again when it hits the ground. OK, guns don't fire when you drop them, but we'll ignore that for the purposes of this very special episode. What does Sue do? She takes the fall for Becky. She tells Principal Figgins that it's her gun and the shots were her fault. She is forced to resign, pack up her things, and leave McKinley. Will you miss her?
The quiet extended sequence in which the kids are hiding in the choir room is hardly a gleeful moment, but I would be remiss not to include it, because it's so well done. The metronome is clicking, the kids are on the floor, and the tension is uncomfortably palpable. The heartbreaking bright spot in the whole ordeal comes when Mr. Schue finds Brittany crouched on top of the toilet in the ladies room, and as she hugs him, two other students come out from the stalls where they're hiding. I breathed a big sigh, and I'm relieved no one is hurt.
Brittany declares an asteroid/comet/meteor named Tubbington-Bop is headed toward Earth (this apocalypse is different than the Mayan one over the holidays), and everyone is using the excuse to express their true feelings. I was cringing from the moment I saw the locker room all decked out like the romantic spaghetti scene from Lady and the Tramp, and it just gets more awkward as the situation unfurls. Coach Beiste wants Mr. Schue to be the man in her life, and he replies that he and Emma are back together. The story ends with tears and a new online dating profile for Coach. Her first match? Coach Tanaka. Does anyone else think that this might actually be the best idea ever?
The love triangle of Sam, Brittany, and Lord Tubbington is ridiculous and perfect, and I love it. Seasoned gleeks know Lord Tubbington is Brittany's one true love; he's seen her through all her relationships, and it's only natural that Sam be a little jealous of their connection (never mind that he's a cat). After the shooting scare, Sam decides to extend the family, presenting a similarly obese Lady Tubbington to Brittany as a peace offering. In return, she shuts down the email account Lord Tubbington has been using to send Sam harassing messages. I rejoiced.
This episode is void of much of a soundtrack, but I swooned away with Ryder's lovely lady Katie when he sings "Your Song." Katie is totally into it, until Ryder tells her about their torrid online relationship and she has no clue what he's talking about (and is not even named Katie). She does put together that he's been catfished, and then she tells him to call her anyway. Why doesn't she stick around to help him figure out who is catfishing him? I would be Veronica Mars-ing all over that situation.
What's your take on the tense episode? How do you think they handled the delicate topic?